Bar Girl Rates And Cost In Bangkok
A lot of guys want to know how much it would cost for sex with a Thai go go bar girl including the costs of drinks inside a go go bar in Bangkok.
The minimum you'll be spending is at least 2300THB – 2500THB. Here is a price breakdown:
300THB (1 beer for you and a lady drink for bar girl)
+ 600THB (bar fine) + 1500THB
(1 hour) = 2400THB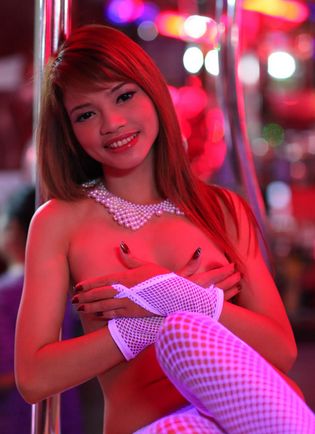 So the easy answer is 2400THB total to get laid. However, everyone has different tastes as well as spending money. You might want to bar fine a really hot looking girl who can easily command a 2500THB short time rate. Or you love drinking beer and hard liquor. Then the total tally can easily sky rocket to 5000THB.
Bar fines are non-negotiable. However, the rates for sex is between you and the bar girl only. Don't be afraid to talk about price. It's quite normal and bar girls are used to it. Even if you keep low balling the price the girls usually smile on but I wouldn't push it too far. Just remember minimum rate for a bar girls time is at least 1500THB. Yes, you can try and negotiate the price down. It will often work with the least attractive girls in a bar. But with young and attractive lookers there is no room for haggling the price down.
A bar girl with the right look can earn 2500 Baht an hour. That's not including her cut in lady drinks, which could be a few thousand Baht extra a month. It's not uncommon for a plain go go girls to pull in 40,000 plus Baht in a month working six nights a week in popular establishments.
Compared to a typical salary for a 9am – 5pm female secretary is 9000 Baht a month. And that's considered decent compared to selling shoes in a department store or waitress in an indoor restaurant. Of course like anywhere else in the world the more educated you are the more likelihood of earning a higher salary and better living standards.
But Thai bar girls from poor areas or who were dealt a crap hand early in life have no other option. No other choice. Except to get as much money from sex tourists as they possibly can.
Bottom line is as soon as you plop your ass on that bar stool you're just a cash cow waiting to be milked. I mean that literally as well. You remember the saying "It's nothing personal, it's just business."
Bar girls want to earn as much money from you as quickly as possible. If you're a first time visitor to Bangkok then you're a prime target. Bar girls love newbies. Because newbies may have never experienced so many girls giving them attention all at once. They feel like a rock-star. And they'll begin to spend money like a rock-star even when they can't afford to. That's the powerful effect bar girls have on men. They make you feel special. So special you want to spend money buying lady drinks for them and taking them back to their hotel rooms for sex.
But I'll give you some insights on what to do so that you'll be spared from such human indignity.
Quick Rundown On Gogo Bars
Remember, there are only 3 gogo bar areas in Bangkok:
Patpong
Nana Entertainment Plaza
Soi Cowboy
The way you deal with bar girls at any gogo bar is essentially the same. You sit down, you buy drinks, check out the girls and if you see one you like and request to have them sit with you then you must buy them a lady drink.
She can't sit with you the whole night because you bought one drink so if you want her to sit longer with you then you must buy more drinks. But usually, customers who don't want to buy too many lady drinks usually take the girl out of the bar after negotiating with the bar girl on short time or long time price.
Though today, some bars have a rule where you must buy a couple of drinks for the bar girl on top of paying the bar fine.
And bar fines which is money paid to the bar is non-negotiable.
Nana Plaza Area Gogo Bars
Soi Cowboy Area Gogo Bars