Guide To Bars In Soi Cowboy Red Light District
Be prepared to be tugged on by dozens of ladies as you enter the threshold of Soi Cowboy. This widely popular red light zone was just recently renovated and enjoying a surge in visitors as a result. When I first arrived it looked like it was on the verge of being run down. Today it has a totally updated look and it doesn't look like it will be losing any momentum.
Soi Cowboy is popular with the expat community in Bangkok and that's a good sign. Going where the experienced locals go is a good indication of where the good restaurants are and the same goes true for go go bars. The drinks in the go go bars at Soi Cowboy have gone up in price. But don't worry it's still not bad compared to western bar prices. The best thing of all is that most of the bars in Soi Cowboy do have Happy Hours or drink specials such as a 2 for 1 or cheap draft beers.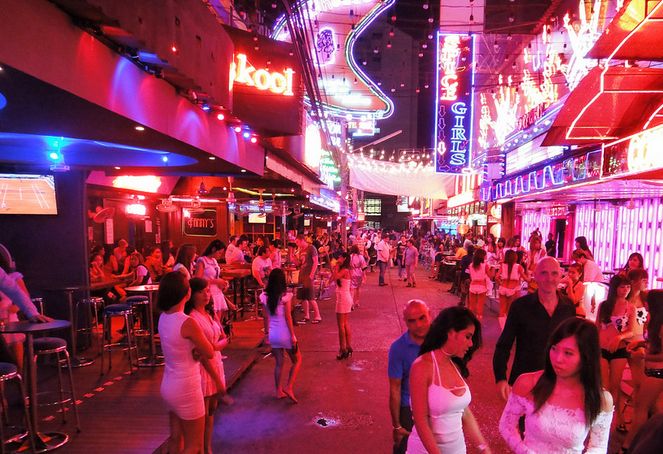 The most popular go go bars in my opinion are Shark Bar, Doll House, Baccara, Spice Girls and the futuristic looking Tilac Bar. These go go bars have the most ladies which increases the probability of meeting prettier girls. They have been around since Soi Cowboy first started but are constantly keeping themselves fresh and reinventing themselves ever so often to keep up with the times and competition.
Some of the go go bars in Soi Cowboy are unique such as Baccara where you can watch girls dance above, beneath a glass ceiling. Sometimes in bikinis and a couple of times in the nude, which is technically illegal, but so is prostitution. There are loads of girls who are dressed in school uniforms which I'm sure are fulfilling a lot of male fetishes.
Speaking about unique bars, there are two specialty bars to check out. I hope you're not shy though because in Afterskool customers can have a beer while a lady gives gives them oral sex. Believe me you're going to need the beer because almost anyone could watch as there really is no privacy. Just a part of the bar they call the naughty corner. Toy Bar on the other hand (no pun intended) only provides hand relief. But to be honest anything pretty much goes inside.
If you're not interested in Thai food there are some pretty good restaurants in Soi Cowboy with menu items such as hamburgers which are excellent at Sam's 2000.
Another great place to hang out is Country Road where they have live music. My friends and I always have fun there. You can also head right across the street to Penny Black to shoot some pool eat some pub fare and check out the loads of girls that hang out there late into the night.
Soi Cowboy at a Glance
Location
On the corner of Asoke and Sukhumvit road.
Nearest Train Stations
Asoke (BTS) and Sukhumvit (MRT)
Beer Prices
110THB to 150THB
Bar Fines
500THB – 600THB
Bar Girl Short Time Rates (negotiable)
1500THB – 2500THB
Bar Girl Long Time Rates (negotiable)
4000THB – 7000THB
Hours
Opens around 6PM. Closes around 1AM to 2AM.
How to get to Soi Cowboy
Soi Cowboy is located between Asoke road and Sukhumvit Soi 23. You can't miss it especially when the sun has gone down and the neon lights are up. Closest train stations are Asoke (BTS) and Sukhumvit (MRT).
Oil Massage Sex Shops Are 1 Train Stop Away
If you've had enough fun in Soi Cowboy but want more, you can head over to Phrom Phong where you may find many oil massage shops that offer happy endings.

Just take the BTS Sky Train at Asok near Soi Cowboy. Phrom Phong is just 1 stop away and takes only 2 minutes.
Baccara – One of the most popular bar with a good quantity of cute bar girls.
Shark  Go Go Bar– Another very good go go bar to check out in Soi Cowboy. Has 2 floors and many can get crowded on weekends.
Midnite Bar – Has a mix of real bar girls and ladyboys. Expensive compared to other bars in the area.
Doll House – Quite a popular go go bar renowned for large-breasted bar girls. Has specials on drinks starting at 9:30pm.
Shebas – Has a decent line-up of girls and the shows they put on are worth dropping by.
Kiss Go G0 – Has fairly attractive bar girls working inside.
Tilac Go Go – A big bar featuring beautiful dancers though some can't be bar fined. A great place to enjoy Soi Cowboy.
Deja Vu – A decent go go bar but beware of expensive drink prices.
Rio – Has a fairly good line up of girls on hand through drinks are expensive.

Sahara's – A big go go bar with many decent looking bar girls with pricey drinks.

Suzie Wong's – Not a whole lot of cute Thai girls but the shows they put on at the night are certainly entertaining.

Spice Girls – Mostly great looking girls, busy bar, but beware of expensive drinks too.

Cowboy 2 – A real institution in the Soi Cowboy go go bar scene. Good place to drop in for drinks.

Dundee – Very small bar and not quite so well known as a bar frequented by many.

Cactus Club – Another small go go bar and not the best known either.

Long Gun – A well known name in the the go go bar industry. Has attractive bar girls and a good place to visit.

Rawhide – Another institutional name in Soi Cowboy. Great place to check out decent looking bar girls.
This Is An Excellent Area To Stay In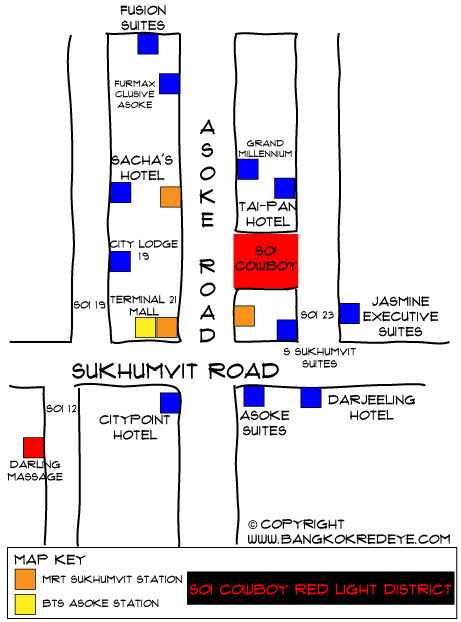 Guest Friendly Hotels Near Soi Cowboy
1. Asoke Suites Hotel Bangkok
2. City Point Hotel
3. City Lodge 19 Sukhumvit Bangkok
4. Darjelling Boutique Bangkok
5. FuramaXclusive Hotel Bangkok
6. Fusion Suites Bangkok
7. Grand Millennium Hotel Bangkok
8. Jasmine Executive Suites Hotel
9. Sacha's Hotel Hotel
10. S Sukhumvit Suites
11.Tai Pan Hotel Bangkok
Here are a list of recommended hotels within easy walking distance to the go go bars of Soi Cowboy. These are also ideal hotels to stay in if you've got only 1 night to visit Bangkok's red light districts.
And these hotels will not charge a fee if you wish to invite a lady to your room. But they may ask for your companion's Thai ID card to check if they are not underage and to keep and hold until she leaves the hotel.
Are Soi Cowboy Girls Hot?
No doubt loads of sex tourists and expats head to Soi Cowboy. Which is one of the reasons why many Thai ladies in the sex industry want to work at Soi Cowboy. Yes, the same can be said for Patpong and Nana, no doubt.
But the ladies working out of a few of Soi Cowboy's best go go bars such as Baccara and Shark Bar will show you that they are a different breed. There are loads of stories of hot beautiful Thai bar girls that just entered the industry but were swooped up quickly by foreign sponsors or well to do expats and spend the rest of their lives as kept women.
Spice Girls also has a decent line up of girls too. Remember, the same rules apply, most of the better looking ladies are standing outside doing their best to attract customers. Now this doesn't always mean that if you go to a go go bar and only see not so attractive bar girls standing outside that you should pass the place. I recommend walking back later on if time with time permitting. Because you never know, sometimes their best looking girls were either inside doing their shift on the stage or maybe they just got back into the bar.
Anyways, Soi Cowboy's go go bars are always a must visit, even if you've only got one night.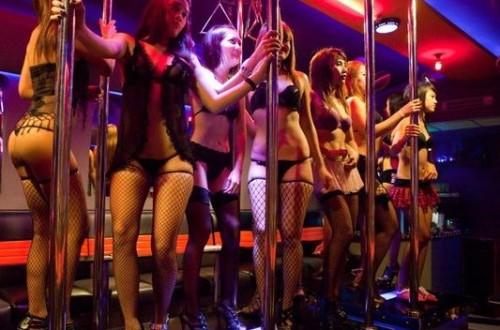 Go Go Bar Girl Prices in Soi Cowboy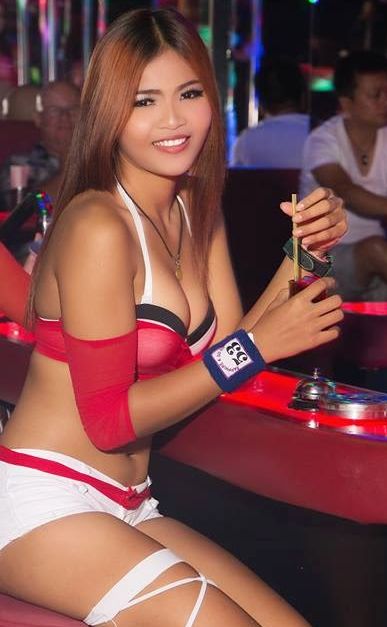 Bar fining a lady at a go go club in Soi Cowboy could range from 400 Baht up to 1000 Baht depending on the quality and specialty of the bar girl. Because depending on the establishment you could bar fine a waitress, a mamasan and even some bartenders if one fancys her.
Also at Long Gun you can bar fine some of the show girls for around 600 Baht. Worth every Baht in my opinion. Show girls in Bangkok are synonymous with Coyote girls or dancers, made famous by the movie Coyote Ugly. These girls are normally in the higher quality range in terms of body type and younger age. Most are slim and very shapely. They are also picky too and the popular ones can turn down customers. And there are those that you can't even bar fine at all.
I have to admit I've had some great times with some of the waitresses and bartenders who I think are beautiful. Plus I find that they are not as rough around the edges or jaded as most bar girls exposed to the industry for awhile. It's just a whole different experience for me personally.
For Short Time (1 hour) the ladies asking price is around 1500 Baht to 2500 baht. Again this really depends on how you look and what ethnicity you are. Japanese men normally get charged almost double. Why? Because they pay and can afford it. Less attractive girls will put out a lower price just to pull in extra cash.
Long Time(Overnight) prices again depend on how the lady feels. Bar girls know they can earn much more money handling multiple customers in one night than one customer for one night. So they will ask for a lot more initially when you ask them how much for long time. So don't be surprised if they ask for as much as 7000 Baht. Minimum is at least 4000THB
On the other hand if the bar girl is tired or she's made some money earlier on in the night she may agree for a lower rate. Remember a lot of times the way you look and your ethnicity goes into how she determines how much she'll charge you. Don't get offended, it's just business.
Go go bars in Bangkok are great places to have fun. But if you're traveling on a budget you have to be careful especially if you're a first timer. Check out Bangkok Bar Girl Rates and find out how much you should really be paying. Bar girls will try to make you pay more if you are not aware of the standard rates are.