Bangkok's Ladyboy Go Go Bars and Freelancers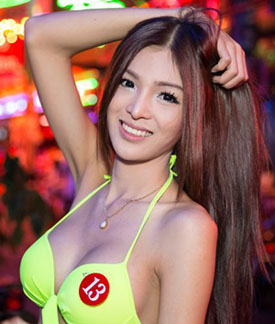 Much of Thailand's red light districts allure is attributed to the city's readily availability of Thai ladyboys in the country's sex tourism industry. And business is good. Whether you want post-ops (no penis) or pre-ops (penis attached) Bangkok is the place to be because it's really easy to find ladyboy prostitutes working the streets.

They'll also freelance out of hotel bars as well as after hour pick up clubs making it easy to hook up with one. There are dedicated ladyboy escort agencies as well providing a wide range of services from travel guide to sexual services.

Today, every go go bar center in Bangkok has bars where customers can bar fine a go go bar or perhaps enjoy an erotic show.

In Thai, ladyboys are called "Katoeys" regardless if they have their tools intact or not. In Thailand, Katoeys are considered as the third gender and are widely accepted in all facets of Thai culture and life. Every Thai in Bangkok or any other major city such as Pattaya and Chiang Mai will know of at least one katoey personally.

So if you're coming to Bangkok and planning to hook up with a ladyboy for short time, long time or even have a girlfriend experience it won't be a shock to a Thai local at all. Not unless she has a huge set of fake tits but in any case who wouldn't be staring?

I can understand, that anyone who is interested in getting it on with a Thai ladyboy for the first time would feel shy. There are 2 things you can do to get over that fear.

First is to relax. If you're on a holiday you shouldn't really care what others think. Next is simply have fun whether or not you're planning on getting it on with a ladyboy.

Because all kinds of tourists visit these bars. From straight guys to gays to bisexuals and even ladies. Though of course most of the customers in these bars are either experienced in the company of shemales or are simply curious.

Going out with a ladyboy in Thailand may cause some stares and looks. But it's out of curiosty and not frowned upon. There are Thai men, even well known and famous men who date shemales. So in Bangkok it's not odd or unusual so one should not feel uncomfortable in the company of katoeys.
What You Can Expect At A LadyBoy Bar
Like any other average go go bar in Bangkok, go go bars that only employ shemales are out to make money. But most of these kinds of bars are known to have aggressive tactics of buying drinks or constant ladyboys at your face with demands of being bar fined and taken out.

Some might like that kind of attention. For beginners it might be a bit scary to have several ladyboys towering over you demanding things. And sometimes it's hard to make a decision when some are massaging your crouch.

Play it cool. And remember you are not obligated to take anyone out you don't want to. You don't have to buy a drink for anyone if you don't want to. Though if you're going to take up a seat, suck up the air condition and take your time to check out the ladyboys prancing around you do and should buy a drink. Otherwise, bar staff will make it clear that you have a minute or so to check out the establishment or else move on if you don't buy a drink.
Even if you're a straight guy or a little curious, ladyboy bars can still be a lot of fun. Even though I mentioned you may come across aggressive staff they will usually back off and leave you alone. And you can find very nice service oriented ladyboys.
Now most bars that employ ladyboys either have their cocks and balls attached. And then there are those that have gone through the cut so they have fake pussies. You can usually tell which is which. Basically, if they still look quite masculine then they have a cock. If they look totally feminine well then they've mostly like have fake pussies.
The easiest way is to ask if you are unsure. They are not shy at all to reveal if they're post-ops or pre-ops.
List Of Ladyboy Go Go Bars
Soi Cowboy
Cockatoo
Soi Cowboy Go Go Bar Map
Nana Plaza
Cascade
Casanova
Obsessions
Temptations
Nana Plaza Go Go Bar Map
Patpong
Queen's Castle 1 is the only all ladyboy go go bar in Patpong. King's and other Queen's Castle bars employ a mix of bar ladies and ladyboys.
Though the best ladyboy bars in Patpong are King's Corner and King's Castle 3, both located on Patpong Soi 1.
Patpong Go Go Bar Map
Beer Prices
110THB to 150THB
Bar Fines
600THB
Bar Girl Short Time Rates (negotiable)
1500THB – 2500THB
Bar Girl Long Time Rates (negotiable)
4000THB – 7000THB
Hours
Bars open around 6PM and close from 1AM to 2AM.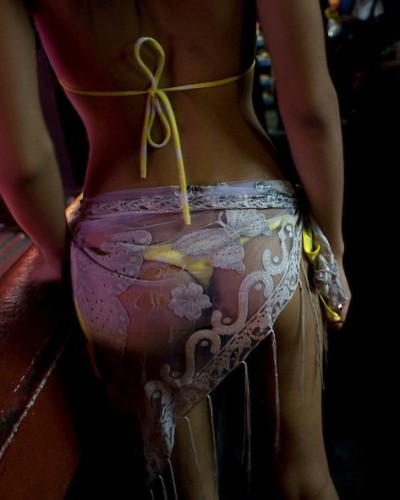 Ladyboys on the streets of Sukhumvit Road
Thai Ladyboys Working The Streets of Bangkok
Perhaps the largest segment of ladyboy sex workers are found on the streets of Bangkok, particularly in city's prime red light districts.

On the left are two maps with locations of where ladyboy hookers usually stand around waiting to be picked up by customers.

The first map is of Nana red light district. Nana has the most concentration of katoeys working the streets.

The second map is of Sukhumvit. Specifically between Soi 13 and Soi 15. A lot of ladyboys hang outside of Thermae Bar, which is a popular freelance bar with real girls inside. But no ladyboys are allowed inside.

So you'll usually see around a dozen or so standing outside of the Thermae and probably and handful sitting on the chairs of hawker food standings chatting away.

Club Climax usually has small group. Q Bar is also popular pick up spot for above average looking ladyboys.
Ladyboy Freelance Rates
Short Time Rates (1 hour – Negotiable)
1500THB – 3000THB
Long Time Rates (Overnight – Negotiable)
3500THB – 8000THB
Keep in mind these rates can be lower or higher. Like real girls, age and beauty dictates the prices.
Bringing Ladyboys Back To Your Hotel Room
Any hotel in Bangkok that doesn't have an issue with customers bringing back female prostitutes to guest rooms are also ladyboy friendly hotels too. And hotels that do allow prostitutes usually ask for the prostitute's I.D. card. Though some may not.

If you pick up a ladyboy from the streets, I highly recommend you stay at a hotel that have a strict stance on holding onto the I.D. cards of prostitutes. These hotels usually have a security guard or some hotel staff on duty around the clock asking for I.D. cards from prostitutes.

There are concerns and cautions for any stranger you take to your room. However certain hotels do take extra precautions when customers bring katoeys to their rooms because they've had past issues with guests and lady boy prostitutes.

Regardless, a real girl or shemale, you should be cautious of any stranger you take back to your hotel room.

But if you don't want any problems with street prostitutes you're better off using the services of ladyboy escort services or bar fining one from a ladyboy go go bar. Because if there are any issues you know where to go back to. Though you'll be paying more you may have better peace of mind.
Feeling Shy With A Ladyboy?
Guys should not feel shy about taking a ladyboy back to their hotel room. It is socially acceptable for men to be in the company of katoeys in Thai society.

But I can understand for one reason or another why a foreign visitor might want to be as discreet as possible. And I know anyone can feel somewhat shy and uncomfortable walking with a gorgeous ladyboy through a long hotel lobby full of guests checking in and checking out.

So I asked my contact over at ladyboysbangkok.com if their escorts know of any hotels in Bangkok with a second yet discrete entrance. Who better to ask then one of the best ladyboy escort agency in Bangkok right? But I also know a couple of hotels with private entrances too and you can see them all below:
Hotels With Private Entrances
Grand Hyatt Erawan – 7500THB
Address: 494 Rajdamri Road
Boss Suites Nana Bangkok – 1600THB
Address: 42 Sukhumvit Soi 4
The Hyatt and Boss Suites both have elevator entrances at the car park.
Somerset Lake Point Bangkok – 3000THB
Address: 41 Sukhumvit Soi 16
Somerset is located on Sukhumvit Soi 16. Be sure to book a room in Tower B where it's more quiet.
Sheraton Grande Sukhumvit – 6000THB
Address: 250 Sukhumvit Road
Sheraton Grande Sukhumvit has a secondary entrance accessible near the Asoke Sky Train walkway. Just follow along exit #5 and you will find it on the left.