Patpong Red Light District Guide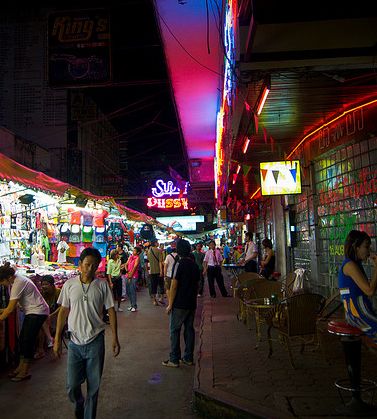 Patpong is a strange mix of sex for sale with over-priced souvenirs on the side. Where one can easily see men charmed by the gyrating hips of go go bar girls with tourists checking out fake copies of DVD movies and watches.

And it's not only a red light district where you can shop for trinkets. Patpong is the only place where you can watch live sex shows and acts. But be cautious as most places operating sex shows are not on the honest side with the bill (more on that below).

Patpong is not just for heterosexuals either. There are several gay hotspots with several locations ranging from chic style gay bars of Silom Soi 4 to the rawness of Soi Twilight's gay go go bars.

As you can see Patpong is a district full of contrast. Even though it's nightlife atmosphere is not the favorite among expats and seasoned visitors to Bangkok's go go bar scene, Patpong is still worthy of a visit and a beer or two at one of the King's group bars.

One thing you should know is that prices among Patpong's go go bars are priced a little higher. It's partly due to the fact that bar girls and ladyboys working there are attractive so they'll demand a higher price. Another factor is that many Asian tourists from Japan, Korea, and Singaporeans will typically pay the price without haggling. And remember, haggling is allowed so feel free to try and talk down a few hundred Baht or so.

Patpong's nightlife is a little bit more spread out. However, its go go bars are all concentrated into two streets; Patpong Soi 1 and Patpong Soi 2.

Patpong 1 has the most go go bars, including the more popular King's group establishments such as King's Castle 1, 2 and 3. When 7pm rolls in the famous Night Market opens up for business right on the street of Patpong 1.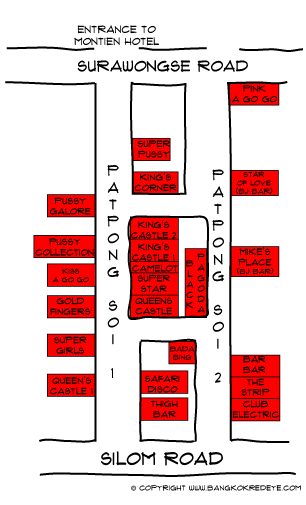 Patpong at a Glance
Location
Patpong 1 and Patpong 2; between Silom and Surawongse Road
Nearest Train Stations
Sala Daeng (BTS) and Silom (MRT)
Beer Prices
120THB to 150THB
Bar Fines
500THB – 600THB
Bar Girl Short Time Rates (negotiable)
1500THB – 4000THB
Bar Girl Long Time Rates (negotiable)
4000THB – 6000THB
Hotels Near Patpong Red Light District
1. **D Varee Diva Bally Silom


2. **Bavana Hotel


3. Crowne Plaza Lumpini


4. **De Arni Hotel


5. Dusit Thani Bangkok


6. **Glitz Hotel Bangkok


7. Montien Hotel


8.**Nantra Silom Hotel


9.**Rose Hotel


10.Siam Heritage


11.Swiss Lodge


12.**Tarntawan Place


13.Tawana Hotel


** Guest Friendly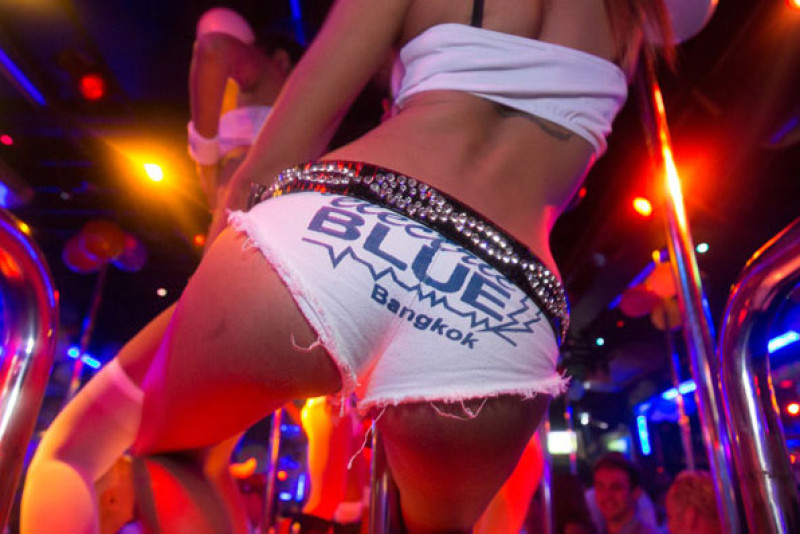 Are Patpong Bar Girls Hot?
Because Patpong is so close to Soi Thaniya, which is a hotspot for Japanese and tourists and expats, Patpong's go go bars do their best to locate the best looking girls for discerning customers. And yes, the Japanese do have money and are often willing to pay more for sex. Though things might be a bit different today because Japan's economy isn't doing all too well so they might be a bit tighter on cash.

That said, Patpong's go go bars still try to find as many beautiful ladies to keep their large Japanese clientele happy and coming back. I'm not saying bars in Patpong don't care about other foreigners. Like any other business all they care is if you've got the cash you're welcome to come in and spend it.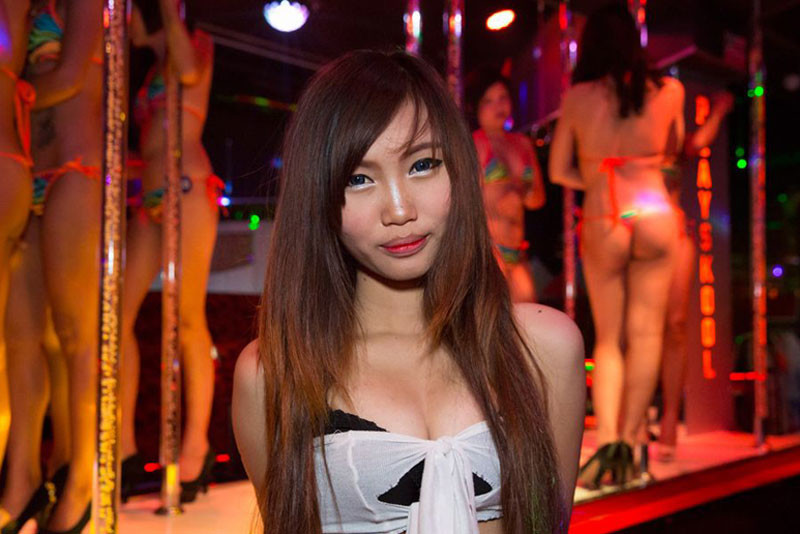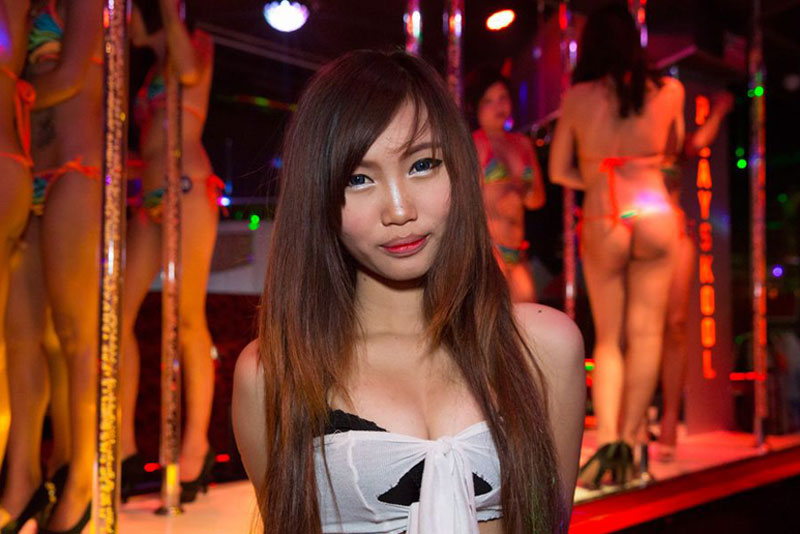 The Sex Shows In Patpong
It's best to avoid going to a sex show in Patpong. Not unless you have a lot of money and are not worried about getting ripped off.

Sex show bars or establishments are usually on the second floors along Patpong Soi 1 and a few places on Soi 2. Don't worry about finding a sex show bar because there are plenty of touts standing around carrying small menus just like the one you see on the right. Trust me they'll find you.

Essentially these are bars with way overpriced drinks that seem cheap at first. So if a tout tells you a beer cost 100THB you might as well double that amount.

And they'll say that the show is free to watch might also be a lie as you'll only ending up finding out when the hand you the bill when you leave.

But as I mentioned earlier if you have the extra cash to blow and don't mind paying extras you might as well take a look see and find out what the fuss is all about. You'd either enjoy Thai bar girls shooting ping pong balls and pulling razors out of their vaginas or run to the bathroom puking.