Bangkok Thai Freelancer Prices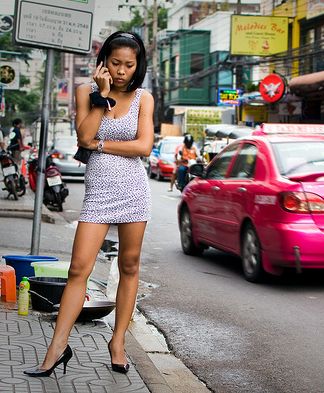 If Thai bar girls are the grunt infantry in the sex industry than Thai Freelancers are the mercenaries. They work on their own or within a group or I what I like to call a sorority. The reason why they prefer to walk the streets instead of a go go bar stage is because they don't like to dance… just kidding. The real reason is bar girls have to pay a fine if they miss a day of work or are late.
Another possibility is that they are underage. Age of consent is 18 and many Thai women look younger than their actual age. You can ask for her Thai I.D. to check for yourself to make sure. But Thai calender year is different than most western calender. Here's how to find out.
As of writing, the Thai Calender year is 2555. Western calender it's 2009. Thai calender is 543 years before A.D. so 2555-543= 2012. Yes you can get in trouble for sex with underage persons in Thailand so don't even think about it.
Majority of Thai freelancers walk the streets along Sukhumvit Soi 4 and the numbers dwindle all the way down to Soi Cowboy. You'll also find a bunch of freelance girls inside Thermae Bar, between Sukhumvit Soi 13 and 15. The bar is beneath the Ruamchitt Plaza Hotel which allows prostitutes to visit hotel guests with no joiner fees. And it's a good hotel stay on Sukhumvit road close to train stations, shopping and nightlife.
Here's A Really Good Tip
If you find a freelance girl that you really like but don't want to pay top dollar, this is what you should do.

Lets say her asking price is 1500 Baht for short time and you only want to pay 1000 Baht.

Tell her if she is short on customers for the night that your offer will always stand.

If she sees you again and she can't find customers for the night, she may come back to you and take you up on that 1000 Baht short time offer.

Having a little bit of patience can really save you some money. It won't work all the time but if it does your patience is rewarded.
How to Negotiate for Lower Prices with Thai Freelancers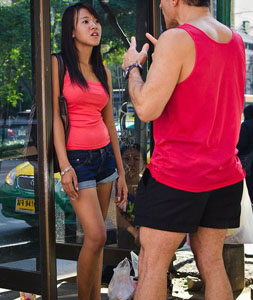 So is it possible to get charged cheaper for sex with hookers? Yes, anything is possible but that's just the easy answer. Because there are quite a few factors that will increase your chances for getting lower rates for sex.

First off it's harder to get cheaper rates for short time. And that's especially true for younger attractive girls. Better looking girls will hold firm on at least 1500THB for the hour. So if you're looking for a 500THB attractive hooker in Sukhumvit you're out of luck.

Though if if 500THB is all you have there are a few places in Sukhumvit between Nana Plaza and Soi Cowboy where you hunt for cheap sex. The first is the Bus Stop (see map below) area. There are not a lot of cheap hookers there today after the African street walkers have moved in but you'll find a handful of Thai ladies willing to go short time for cheap. Walk towards Thermae Bar (see map below) and you'll find more just standing around or sitting by street side bars.

You have better chances of getting cheaper long time rates because there's more margin to negotiate with. Because many girls charge a rate of 5000THB for longtime which includes 2 shots (one at night and one in the morning). 

It goes without saying that you first have to look at least somewhat attractive in their eyes. The attempt to speak Thai or if you can speak the language greatly increases your chances of getting cheaper longtime rates. Even though most hookers on Sukhumvit can speak basic English the ladies really appreciate the fact that a customer can converse in Thai. It just puts them a little bit more at ease and relaxes them.

Learning basic conversational Thai language these days is not hard at all. You can do a search on YouTube and you'll see so many videos with instructions on basic Thai conversations including Thai numbers and slang. Learning jokes in Thai is also a great way as a conversational ice breaker.

When asking for lower rates for sex either short time or long time, the key is not to be overly aggressive.  Thais don't react well to rude pushy behavior especially Thai prostitutes who have husbands or boyfriends just meters away ready to throw a beat down on anyone they deem a threat. So play it cool.
Here's How to (Possibly) Get Cheaper Price for Long Time
Here's a little dirty trick bordering the unethical and involves a bit of theatrics. But hey, many Thai working girls usually try to skip out on long time even after you've agreed on a price.

When you meet a Thai prostitute you want to take out for long time try acting drunk. Slur your words and act as if you're about to fall asleep. Don't overdo it of course. You don't want her to think that you are too messed up to pay her. And she might ask for money up front since she doesn't want the risk of rummaging through your wallet if she thinks you will pass out.

In her mind she'll think that you won't be able to get it up and probably fall asleep once she's at your hotel room.

So there's a good chance she'll think she can give you a discount and not have to do much work or any work at all. And she'll certainly think that she'll be able to slip out of your room much earlier with you none the wiser.

I'm not claiming that this will work all the time. But it has worked for me though this was years ago since I had tried it out. This was with a girl at the Thermae Bar I was originally quoted 5000THB for long long time. I knew she was particularly firm on her rates from previous experiences. So when I acted like I was drunk she dropped the price down to 4000THB thinking I'd be too inebriated to do anything. But when she got back to my place she was really surprised to find I sobered up so quickly. Since then she'd always eye me suspiciously behind a smile.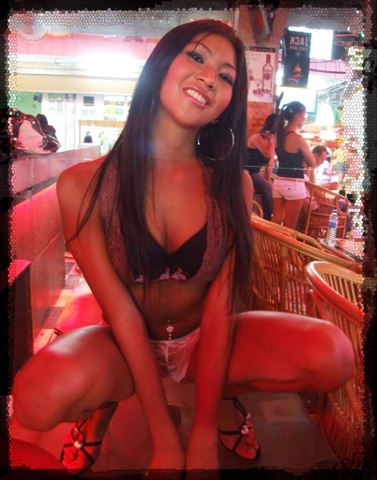 Another trick that might work is to tell the girl you just moved into Bangkok and will be working there for awhile. If she really thinks you like her she may just lower her asking rates hoping that you'd end up going back to her all the time or at least be a potential boyfriend or supporter material.

This has worked for me though unintentionally. Since I live in Bangkok I've come across many Thai working girls looking for someone who can take care of them financially. And there are many Thai prostitutes who have successfully snagged a man to take care of them. Even the girl at Thermae Bar I tricked into charging 4000THB for long time is no longer freelancing there and the rumor is she was picked up by a Japanese supporter.
Is it Possible to Get Freebies from Thai Hookers??
Don't get your hopes up because the answer is no under most circumstances.

Your only real chance of getting a freebie is if you've known the girl for a long time and you're sort of a boyfriend.

And if you do know a particular freelancer for a long time you can become an unofficial boyfriend and form a 'gik' relationship. It's a no stings attached type of agreement where a guy and a girl wants to get together and screw like rabbits. It's quite a common practice even in a conservative country like Thailand.

If you're someone off the streets and a Thai hooker doesn't know who you are then you're definitely not going to get a free hook up even if you beg and your life depends on it. There's no free lunches even if lunch is cheap in Thailand.

So unless you are up to the task of being a potential boyfriend and supporter it's your only chance of getting a free go. However, as a boyfriend or supporter, you'll end up paying for some action someway or somehow through shopping, paying rent for her apartment, buying the latest cell phone etc.

Unless you look like Brad Pitt you may have a very good chance of hooking up not with working girls but with regular Thai girls hanging out in pubs and clubs. That is certainly possible and has happened not to me but from people I know. Those lucky bastards.
Areas Along Sukhumvit Road to Find Thai Hookers
You'll find the most freelancers gathering around the Nana Hotel's parking lot. Usually a dozen of them starting around 8pm and even more when NEP closes at 1am – 2am. That's because all the bar girls who want to make extra money will double as freelancers after they leave NEP. Up all along the bars of Sukhumvit Soi 4 you'll find others lining the street as well. Also on Sukhumvit Soi 5 just right outside the Starbucks is also another pick up spot. You'll even find a few African women too if you're into that near Soi 5

It's not that strange. Non-Thai sex workers have been in Bangkok for awhile. Right inside of the coffee shop of the Rajah Hotel (located on Sukhumvit Soi 4, behind Nana Hotel) are a group of Ukrainian and Russian women. You will usually find them there after 11pm. There are many more Russian prostitutes in Bangkok now these days and you can find them just a few minutes walk up from Soi 4 to Soi 3. They are all standing around the Grace Hotel. Keep in mind that it is widely reported that Russians working in Bangkok's sex industry are there illegally and against there will.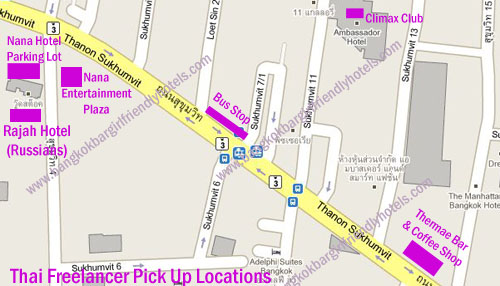 There are also lady boys wandering around, standing in certain locations as well. Sometimes they are easier to spot because they are usually in groups. Again, I'll be making a hub soon about lady boys so stay tuned.

You have a choice of taking a Thai Freelancer to a short time hotel or your own hotel. Your lady will know of the nearest short time hotel where you picked her up and it'll cost you 300 Baht for an hour.

Alternatively if you're staying in a hotel nearby within walking distance you can take her there instead. However it's a good idea to stay at any of the hotels I recommend here. These hotels will ask for ID cards from the ladies or ladyboys you take back to your room.

There are pros and cons when it comes to taking a Thai freelancer back to your room. I'll start with the cons since it's more important:

Cons:


You will not know if your companion has been checked for sexually transmitted diseases.
There's more of a personal security risk. She could drug you and rob you of anything that's not nailed down. This may not happen if the hotel you are staying in requires sex workers to leave their I.D. cards with security. But still, be careful.
Possibility of underage girls. You don't want any problems with the police do you?

Pros:


You don't have to pay a bar fine so you'll save 500 Baht – 600 Baht.
Many speak a decent amount of the English language.
You don't have to pay for bar drinks which will save you another few hundred Baht.
Drinking alcohol on the streets is legal (except religious observances). So you can buy a beer for cheap at a 7-Eleven and stand around and check out the local talent absolutely free.