Where To Find Thai Freelancers In Bangkok
Thai freelancers, prostitutes, call girls or whatever you wish to call them, can be found in certain spots between Nana and Soi Cowboy. Starting from Sukhumvit Soi 4 there are particularly more hookers but as you walk down from Sukhumvit to Soi Cowboy there you will see less.

This is the prime reason why I always recommend people to stay at a hotel around those two red light districts. And since both areas are right in the Sukhumvit district it's the best locations to find Thai prostitutes in Bangkok.

Thai working girls mostly come out around 7pm and you'll find them along the entrance of Sukhumvit Soi 4, and especially right by the entrance of the Nana Hotel car park.

For one thing you won't need to rent a room at a short time hotel which will cost you 300 Baht. Besides, short time rooms are filthy. It's better to take a bar girl or Thai freelancer to your hotel room instead.

Another important reason why it is a good idea to take a bar girl or freelancer to your hotel room is because you will be in a much safer environment. You have hotel security by your side should you ever need them.

Because guest friendly hotels requires your companion(s) to leave a Thai I.D. card at the security desk. And they won't get it back in most cases after the hotel knows you are alive and not bound and gagged in a closet. There are sketchy freelancers on Sukhumvit so do be careful.

Here I recommend 6 different locations for finding freelancers, all are really easy to find, especially if you are a first timer to the red light districts.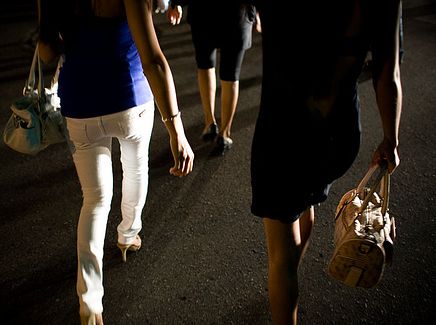 Nana Hotel Car Park Entrance
Quick Tips
If you find a girl that you really like but don't want to spend too much then try doing this. If she's asking for 2000 Baht but you only want to pay 1500 Baht tell her that if she can not find a customer for the night she can come back to you and take you up on the 1500 Baht offer.
Be careful of lady boy freelancers.
Short on time in BKK? There's no need to get a hotel near BKK airport. Your best chance for some action is to get to a soapy massage parlor at Huay Kwang. Click here for more info.
Or head to an after hours club to short time a freelancer before heading back to the airport.
Want to know my favorite go go bars in Bangkok are or what I've been up to? Check out my blog!
Thanon Phet Uthai - A Hidden Spot to Pick Up Thai Prostitutes
Here's an area I don't recommend newbies or people with a poor sense of direction should visit. It's located away from the red light districts, but on a major avenue called New Petchburi road. This location is only accessible either by taxi or taking the MRT followed by a 10 minute walk.

The location is quiet, but safe. The only major hotel in the area is the Amari Atrium Hotel (not guest friendly however). There are no short time hotels around this area so you'll have to take her back to your hotel, usually by taxi and there are many in the area. Not unless you don't care about looking cheap and asking her to take the MRT train assuming it's still open.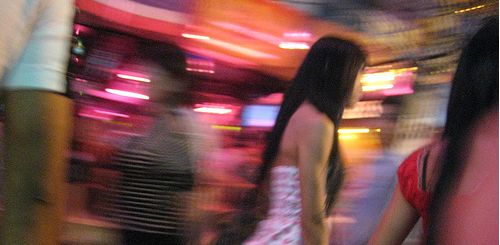 There is a newish soapy massage parlor on the same road to Thanon Phet Uthai called La Belle, if you're interested. So if you see this place then you know you are on the right direction.

You'll usually find a few dozens girls at Thanon Phet Uthai. Sometimes more especially when it's late after 1am. Because many soapy massage parlor girls come here after hours to make extra cash. There are a few lady boys here too. Here are two ways to get to Thanon Phet Uthai:

1. Taxi – Most Bangkok taxi drivers know of Thanon Phet Uthai already, I've seen plenty of taxi with foreigners inside scouring the area checking out the girls. But if you pronounce it wrong obviously they won't understand you.
2. Petchburi MRT Station – The Petchburi stop is not far, matter of fact it's only one stop after Sukhumvit MRT station. Make sure you get out from exit #1. Walk due east on New Petchburi road. I know the map says Petchburi road, just trust me. The walk will take about 10 minutes. You will see La Belle soapy massage parlor. Passing that, Thanon Phet Uthai should be another 5 minute walk. When you see Amari Atrium hotel on the opposite road and walked passed it than you've gone too far. Remember though, MRT stations close at 12am. There are fewer girls there around that time, but more usually appear after 1am or 2am.

Visit Thai Freelancer Rates section to find out how much the ladies here would charge.
Looking For A Threesome?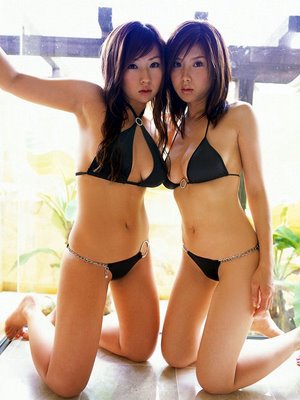 I'm sure a lot of men want to try a threesome at least once in their lifetime. Thailand's red light districts is the place to fulfill that fantasy. And I get all sorts of questions from guys who want to know where and how someone can organize a threesome in Bangkok and also in Pattaya.

I can say upfront the cheapest option is to hire a couple of street hookers. Because in go go bars if you want to take out 2 girls to complete your threesome you'll have to pay double the bar fine. If you have the cash for that than go for it.

But I know a lot of guys don't want to shell out 1200THB bar fine for 2 go go girls on top of whatever price was agreed upon for a sexual tryst. So, you're best bet is to seek out some freelancers.

That said, I have to tell you from my experience, Thai hookers may not be as enthusiastic as yourself when it comes to performance during a threesome. So it won't be the same way you've probably pictured it in your head or remember from watching porn. That is because most Thai sex workers despite their profession are shy. They'll have no problem performing on you, but on the other girl they might be a bit inhibited. Especially when they don't know each other.
Here's A Tip To Get The Best 2 For 1 Deal
Again, of course I am speaking from experience. Now as I mentioned above, it's best to approach a group of girls that look friendly to each other. Do not go up and ask for the prices for a threesome directly. They will most likely quote you a higher price initially.

Talk to one girl first. That is an important tip. Because you do not want to haggle with two ladies on pricing at the same time. It is just a big headache.

Build up some kind of rapport before you start asking for prices. Learn some to speak some Thai you can find a lot of Thai language tutorials on Youtube today.

When you start asking for a price, usually another hooker which is her friend may join in and help haggle. Once you agreed on a price you are comfortable with, whether it be for short time or long time, you can then ask her friend about joining in for a threesome.

The 2nd hooker will (usually) go with whatever the 1st hooker's price is agreed on. So now you don't have to deal with haggling with 2 girls.
Russian Freelancers in Bangkok
Here's Where to Go For Russian Hookers
The old Rajah Hotel is located right on Soi 4, past the equally old Nana Hotel famous for it's parking lot with Thai hookers.
But if you're looking for white meat the Rajah Hotel is a staple in Bangkok's sex industry. But for the longest time before Rajah's renovation, you could easily find hookers from the Eastern block of Russia in its coffee shop. Not today.
Today you'll find the Russian hookers occupying the fourth floor of the Rajah hotel. They're practically inhabiting the whole entire fourth floor where there are at least 12 to 20 hookers from mother Russia and the Eastern block.
Price of Russian Hookers at the Rajah Hotel
Cost depends on looks and age. From my experience, the ladies working there are rough looking. I hear there are hot Russian girls working inside but for all the years I've taken my friends there I've never seen one I consider "doable".
There are Thai papasans around that can speak perfect English. The quoted prices are 1800THB for the ugly girls and from 2000THB – 4000THB for the okay to supposedly hot looking Russians. They've got a lot of tall girls with big tits and bleach blond hair. If that's what you like then you'll enjoy buying sex at the Rajah.