The Essential Tips On Visiting Bangkok
In this section you'll find some basic travel information on the capital city of Bangkok and what you can expect while visiting the city's nightlife.
Many first timers may feel apprehensive about checking out Bangkok's red light districts because they straight up don't know what to expect when they get to the front doors of what is essentially a brothel on steroids. And that's understandable. So below you will find useful tips from upon arrival at Suvarnabhumi Airport to how to get around the city with info on different modes of transport the city provides.
You will see that the city is very easy to travel around, especially when you're looking for go go bars and massage parlors.
But the crux of this website is on the country's infamous sex industry. For that you want to be armed with basic information on Thai money because with no money there's no honey as the going says. So you'll find information on the Thai Baht, ATMs and the best place to get money exchanged with the best rates.
Bangkok's nightlife is quite safe to visit. The bar business is a business though out to make money. But in a way they also want customers to be happy so that they keep coming back and tell their friends about the great times they had. But there are a few things that as a newbie you can beware of on this page so you won't get overcharged or pay a lot of money on drinks for girls you can't even screw.
When To Visit Bangkok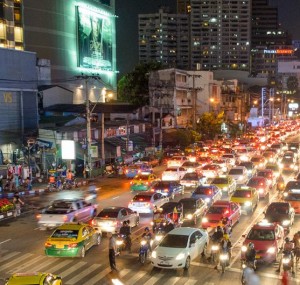 I realize that we all can't pick and choose when we want to go on vacation. But the best times to visit the red light districts in Bangkok is from late November to late March. The weather in December and January is beautiful by the way (high season for hotels).

April is by far the hottest month with temperatures reaching a scorching 36 degrees Celsius (98 degrees Fahrenheit).

As for rain, it pretty much happens sporadically throughout the year. However, late September through early November is the real rainy season (low season for hotels by the way). You'll also see plenty of thunder storms which can be quite frightening when one is above you, but beautiful at a safe distance. It's typical for low level streets to get flooded during this time and see people wading though knee high water.

Besides December and January, Bangkok can get quite hot and humid. Really humid. Here are some simple tips to help beat the heat and not look like you just stepped out of a swimming pool fully dressed:
Wear loose cotton fabric clothing
Carry an extra shirt
Use baby powder and apply liberally (a tip from my mother)
Bring deodorant (even when you think you don't need it)
Carry a small towel (take one from the hotel, just remember to return it)
So even though the city can get really hot there are a lot of places that you can duck into to escape the heat. Practically anything place of business that is indoors has air conditioning. That's why I tell everyone never worry about the heat.
Bangkok Rain - It's No Joke
Bangkok's Suvharnabhumi International Airport
Important Tip
Throughout this website I've provided locations and names of hotels in walking distance to all 3 of the city's red light districts.
However, if you choose to stay elsewhere than I recommend to at least stay at a hotel near the BTS Sky Train or MRT subway train.
Both train stations are near the red light districts. And both train systems have numbered exits. On this website I will list the train exits that are nearest to go go bars, massage parlors and areas to look for Thai freelancers.
The Most Important Tool You'll Need
Be sure to bring an unlocked mobile phone with you. Chances are you've probably got one already. If you don't, you can buy second hand mobile phones for cheap these days. Just make sure its unlocked, which means you are able to put in a Thai SIM card and have it work.
With a mobile phone on hand you can take down phone numbers of freelancers you've met and want to hook up again with. And Thailand today has some pretty good 3G and even 4G data to access the internet. So you can use it to find info on this website while you're having a beer pondering where to get laid next or look up some info at a oil massage shop and make an appointment.
Having a mobile phone may not be so important if you're only in Bangkok for a day. But if you're here for a little while believe me it's one of the single best tool you'll need in the red light districts of Bangkok.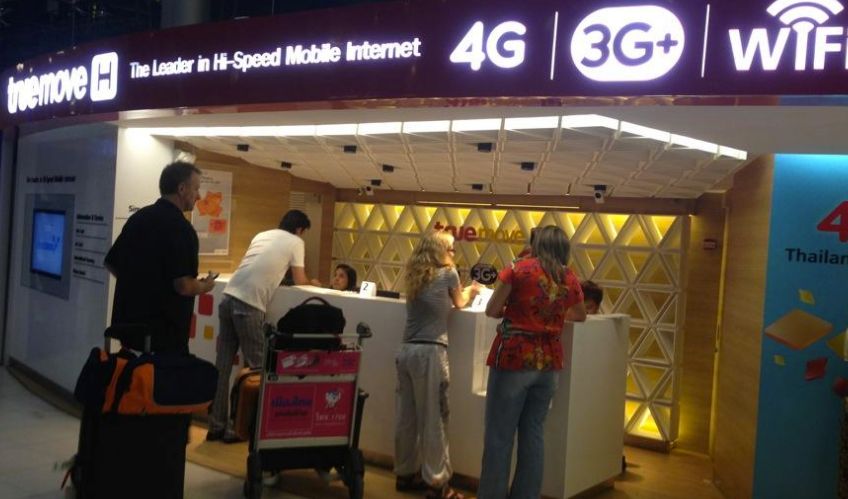 Where To Buy Thai Mobile Phone Sim Card
At Suvarnabhumi International Airport arrival hall you can find major mobile phone companies there. True Move, DTAC and AIS have these kiosks where newly arrived tourists can pick up mobile and data packages. I've used all three companies before and can say they're all reliable. And all three companies have similar priced tourist packages for data and cellular access. But for me, I've been using True Move the longest.
If you forget to pick up a SIM card at the airport then you can pick up a True Move tourist SIM card package at any local 7 Eleven store in major tourists areas such at all three of the red light districts (see below). Trust me, you will not have a hard time finding a 7 Eleven in Bangkok. There are other outlets you can purchase SIM cards but because 7 Elevens are open 24 hours every day so it's great for tourists. I think it still cost about 300THB for 7 days of unlimited 3G connectivity plus minutes for making calls. Which is a great bargain.
Money Exchange - The Best Way To Get The Best Rates
If you have a general distrust for machines like ATMs and prefer to bring wads of your local currency to exchange in Bangkok than I recommend an authorized money exchanger called Super Rich. They are located in the commercial zones of Bangkok.
You can find a branch right inside Suvarnabhumi Airport Rail Link Station. There is also another convenient branch over at the Airport Rail Link Phayatai Station too. So you can easily convert your currency to Baht for the best exchange rates.
Two more convenient locations are at the Chit Lom BTS station heading towards exit #1, Central World Plaza. The other is found right outside the Asok BTS station along exit #5.
My friends who visit me from the USA, Europe and Asia have been going to Super Rich consistently for many years after I recommended them. To give you an example of their rates, a college friend came over to Bangkok around August of 2014. He had 5 $100 USD bills to exchange. Super Rich was offering 32.90 Baht for $1 USD. At a major bank he found the rate of 31.30 Baht to $1 USD. The small difference can really add up especially when you exchange large amounts. Note: Super Rich like any other bank will offer better rates when you exchange large denominations such as $100 USD bills.
The nearest and easiest Super Rich branch while you're in the red light districts is located right in the Asok BTS Sky Train station which is right in the Soi Cowboy and Nana Plaza area.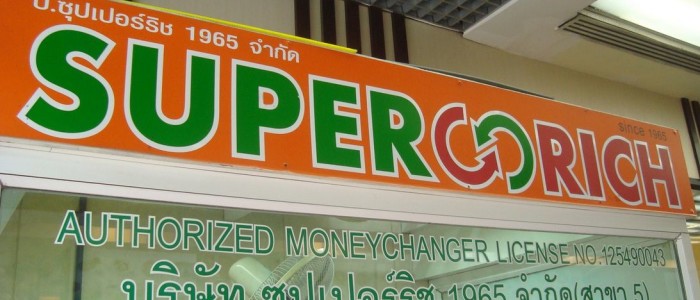 Bangkok Money Matters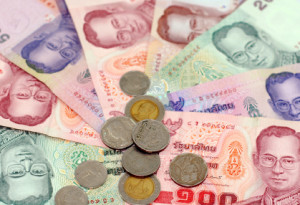 We've all heard the saying, "No Money, No Honey." So if you want to play, drink and eat you're going to need Thai Baht.

I know people these days who travel will be carrying their own local currency or have an ATM card or two. I've never known anyone use traveler's checks these days and neither have I. So I'm not going to cover that subject.

For withdrawing Thai Baht from an ATM I currently recommend Aeon Bank (**Update 2014** Sorry fellas Aeon started charging 150THB for ATM withdrawals. But but all other bank ATMs charge 180THB**).

Aeon Bank's most convenient location is right inside the Terminal 21 Mall right on Sukhumvit road by the BTS Asoke station and right across Soi Cowboy.

Only trade off is that Aeon ATMs are not found everywhere like other major bank names such as Siam Commercial, Bangkok Bank and Kasikorn Bank. You'll mainly find Aeon's ATMs in major department stores such as Central department stores and supermarkets like Big C and Jusco.

But believe me finding an Aeon ATM machine is worth it. All of the other major banks charge a 180 Baht surcharge. That's not a cheap fee and that cost is more than any other country I've been to. 180 Baht will get you a decent meal for one including beer at a local Thai street side restaurant.

Another option is to try Bank of Ayudhya first because they have ATMs everywhere. Each bank in Bangkok has a distinctive color and Ayudhya is yellow. My friends noticed they don't charge 180 Baht fees for the first 3 or 5 times. Like any other bank the ATM will notify you about the fee and give you the option to decline the transaction.

I've never had an issue with Thai ATMs. However, here is an important tip. Choose a machine that looks clean and well maintained that are located in a well lit area. There are many cash machines all around the city so you're not going to have a problem at all locating one that looks well maintained and in good working order. I know this is a given but never stick your debit card in a machine that has wires sticking out.
Out Of The Airport And Into The Frying Pan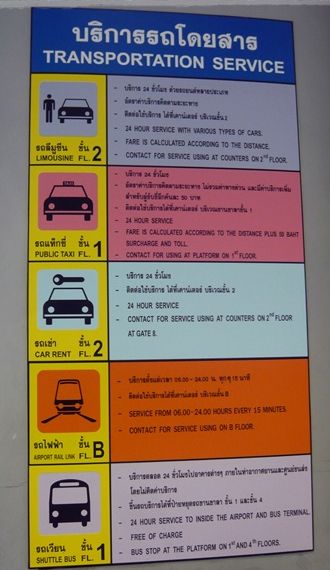 So you've got your passport stamped and you've already got a boner going in your pants and ready to head over to an oil massage parlor or a BJ bar.
There are three ways to get to your hotel in Bangkok from Suvarnabhumi international airport. You can take the public taxi. Don't take the official airport taxis. It's a total rip off. Look for the signs for the
public taxi.
Many signs in the airport lead the way.
Look for a taxi stand kiosk (which I notice is not always at the same place, "Welcome to Thailand"), you'll usually find a line of newly arrived tourist behind it. You can give the name of the hotel to the person behind the kiosk or better yet show them your hotel voucher. They'll translate it onto a piece of paper for the taxi driver.
There will be a
50 Baht airport surcharge fee
on top of the fare added and all tolls are paid by you if you choose to take the highway. It's also a good idea to write down the hotel's telephone number so that the taxi driver can call if there's a problem. No self respecting taxi driver in Bangkok is without a mobile phone. Tip the driver at least 20 Baht for using his mobile.

If you really don't want to pay the mandatory 50 Baht surcharge you can always head up to the street side arrival level and catch a taxi just dropping off a passenger.
If want to rent a car there are a few companies near the arrival level that can help you out with that. But because I've never rented a car from the airport before I can't make any recommendations.
The Airport Bus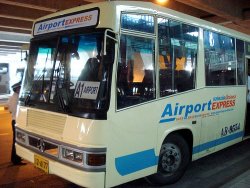 The Bangkok airport express bus has a flat rate of 150 Baht. The kiosk for the bus is at ground level and you can find signs leading to it. Just let them know what hotel you're staying in and they'll tell you which bus number to get on. You can find out the route and hotels the buses top next to at Bangkok airport express. The buses operate from 5am to midnight and are air conditioned.
Now if 150 Baht is too expensive for you then there's an even cheaper alternative. You can use the Bangkok's public bus all for a measly 35 Baht. However, it's not air conditioned.
Bangkok To Suvarnabhumi Airport Express Train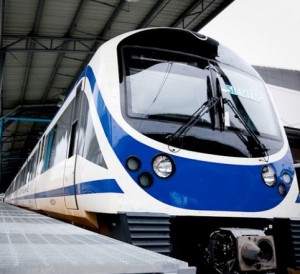 If you only have say 5 or 6 hours or even 1 full night to mess around in Bangkok's red light districts then this train system is your best friend.
The City Line train system from Airport to Bangkok making some local stops along the way only take 30 minutes. And the fare is 45THB one way. Hours of operation are from 6am to midnight.
There is also an Express Service train that cost 150THB one way fare but gets to Bangkok in 15 minutes.
Both trains end up in BTS station called Phaya Thai.
Bangkok Don Mueang Airport - The City's Second Airport
Don Mueang is Bangkok's domestic airport but they also handle international flights particularly Air Asia and other low cost carrier airline companies. If you're arriving from Don Mueang you only have two options to get into the city. First and easiest is by metered public taxi. There is also a mandatory 50THB taxi surcharge if you line up at the public taxi queue. 
Second is the A1 public bus which will drop you off right at Chatuchak Weekend Market area where you can pick and choose to ride the MRT subway train or BTS Sky Train to get to your hotel.
Bangkok Taxis- They Can Be Your Best Friends or Your Worst Enemy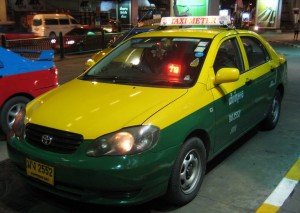 You're not going to find a problem at all finding a taxi in central Bangkok. Many are parked near red light districts waiting to pick up customers with a bar girl in tow.
Now sometimes you're going to come across a taxi driver who refuses to uses the meter. They may quote you a fare of 200THB to take you somewhere even if it's not far at all. And you might come across more than one. But all hope is not lost because eventually you will find a driver who will use the meter.
As of writing taxi rates start at 35THB just to get in. Then it's 5 baht per kilometer for destinations within 12km. After that the further you go the per km rates goes up .5 Baht. But in more cases if you're traveling within Bangkok you'll probably be within the 12km range. That said, taxi rates in Thailand are cheap compared to Western and some major Asian countries.
Taxis are a great way to get around the city. Trouble is there are traffic jams during peak rush hour that occurs all over the city. Which is why I always recommend staying at a hotel near the red light districts. Or you can go completely lazy and stay at a hotel with hookers.
But lets say you want to go to an after hour club. And some of these clubs are out our the red light districts yet within Bangkok. That's where taxis can come in handy. Take a look at the taxi photo above and you'll see a sticker on the trunk "Bossy Pub". All drivers in Bangkok will know where Bossy Pub is because they get a commission for taking you there and best of all the ride is free! The same goes for "Spicy Club" which is also in Bangkok and taxis will take you there for free as they get a commission as well. But nothing in life is free. Both clubs charge a 300THB entrance fee. And both clubs are good places to pick up Thai freelancers and today I am seeing some Russian and African hookers too.
Your Personal Safety
First let's talk about personal safety. If one your concerns is about being drugged and waking up one morning in a tub full of ice missing and missing kidney then relax. Yes, this sort of heinous crime does happen. And sadly it happens to the poor and to what degree I'm not sure.

The only time you should be worried about being drugged is taking drinks from complete strangers, especially from Thai freelancers working out of bars. Even though it is a rare occurrence it can still happen. Or it can happen inside your hotel room. Hotels in Bangkok typically supply 2 bottles of water. So if you bring a prostitute back to your rooms just make sure you are the one opening and drinking the water.

And most hotels have electronic safes in a closet. Please use it. Put anything you can't lose in it for peace of mind. If the hotel you know you're staying in doesn't have a safe then get a luggage that has a built in lock or one that allows you to hook one on.
How Old Are The Hookers In Bangkok
Here is a very important subject matter. Any Thai prostitute working out of a go go bar, oil and soapy massage parlor has to be 18 years old to start. Technically it is the establishments responsibility to ensure that the ladies they employ is of appropriate age. This is also true for soapy and oil massage parlors.

If you do know for certain that a Thai sex worker is under aged please leave them where you found her. It is against Thai law to pay for under age sex so don't be stupid. The ignorance is bliss line of thinking will not play well in Thai legal system if you knowingly pay for sex with under age boys and girls.

Now most larger go go bars such as Rainbow 4 in Nana or Baccara Bar in Soi Cowboy do have a handful of 18 year old dancers. But more often then not you'll find ladies in early to mid 20's which make up the bulk of dancers. Then you'll find a handful of ladies in early 30's. And don't be shocked when you get to a bar and find 40 year old hookers wearing bikini and cowboy boots all the way in the back of the stage in heavy make up.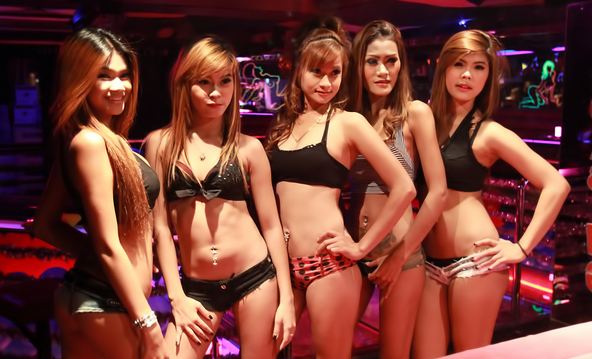 The street hookers or freelancers of Bangkok are a whole different story. What they do is on their own (or perhaps with a pimp) so there is no age regulation. But you will of course still get thrown in jail if you pay an under age girl for sex.

Problem is most Thai girls do not look their age. So even if they look like they're aged 20 they can actually be 16 or 17, which is the no go zone. So you can check her Thai ID card for your self with a little bit of math.

Just remember, legal age for prostitution is 18 year old. But the Thai calender is different. It is 543 years ahead of western calenders. So for example on western calender as of writing the year is 2014. So 2014 + 543 = 2557. 2557 – 18 = 2539, so if you're unsure of a street hookers age you can check her ID card to see if her birth year is at least 2539.

Almost all hotels near Bangkok's red light districts are aware that their male guests often take hookers to their rooms for short and long time. And they will check the ID cards to make sure she is of legal age. The hotel may also hold onto the ID cards and only return them to prostitutes after checking to make sure you are okay by calling your room.
Patpong, Nana, Soi Cowboy - Which Should I Visit?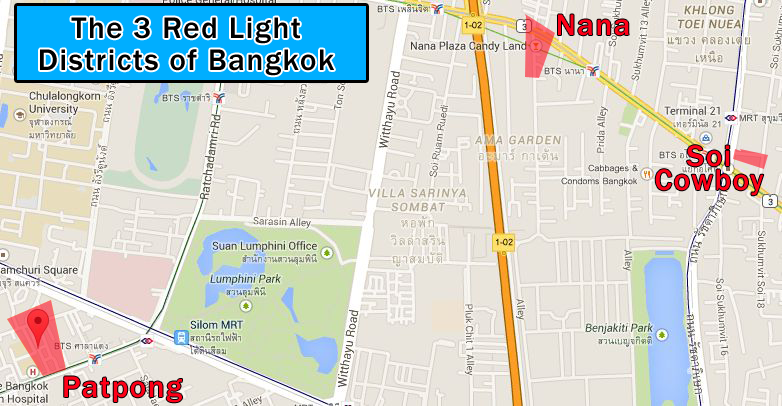 By now you might've learned already that there are basically 3 go go bar red light districts in Bangkok.
Patpong
Nana
Soi Cowboy
You can visit all three in 1 night (because all are close together) but realistically you probably won't have as much fun because you'll be rushing around and not having enough time to take in all the excitement and enjoyment. For those of you who don't quite have so much time to mess around in Bangkok I'll give you a quick break down of what you can do in each respective red light district at a glance.
Patpong has a lot of go go bars, some with ladyboys only such as King's Castle 3 but most go go bars especially along Patpong Soi 1 have a mix of real girls and pre-op and post-op ladyboys. The bars along Patpong Soi 2 such as Bada Bing and Club Electric Blue hire 100% females. Patpong is also a popular gay entertainment center as well. So it's a mix bag of fun depending on what you consider "fun". Sadly, Patpong doesn't have much of a freelance scene. But the go go bars there are lots of fun.
Nana is a larger red light district but that's because it's has a bigger mix of male entertainment. You'll find go go bars specifically inside Nana Entertainment Plaza (NEP) located on the corner of Nana Soi 4. Hookers are abound and all around on that location because NEP is sort of like the epicenter of the red light district. I highly recommend Nana if you are specifically into street hookers. NEP is also the place to be if you want to find ladyboys as well as ladyboy street hookers right near the entrance of NEP.
Compared to the other two red light districts Soi Cowboy is just a blip on the map. But to date it has some of the most popular go go bars such as Baccara and Shark Bar. There is no freelance scene but you may find a few girls drifting in and out that you can perhaps pick up. There is only one ladyboy go go bar called Cockatoo.
The Bangkok Gogo Bar Experience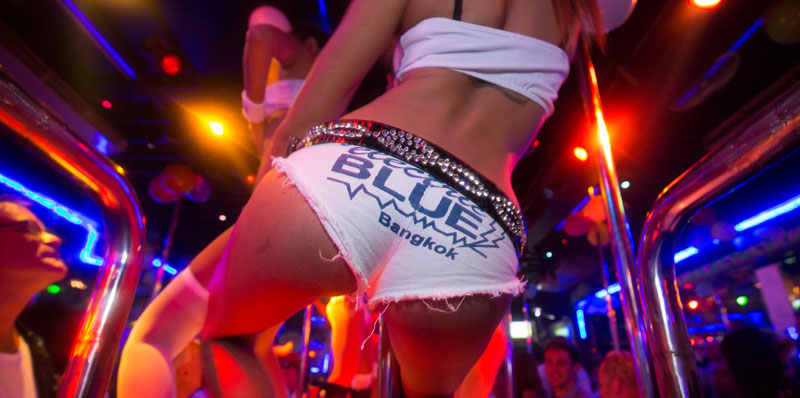 If you're worried for your own personal safety and think bars in Bangkok are dangerous I can quickly say they are not. Sure there may be shifty characters inside but in general most are just tourist like you out to enjoy their nights with a fine sexy bar girl. Chances are you'll be sitting next to an engineer, doctors, accountants and yes even lawyers.
Almost all bar customers are foreigners. Local Thai men in general are not your average daily go go bar patron. Though you might find a couple of rich Thais sitting around too but practically every customer is a foreigner.
Now remember, these bars are a business. And they need to make money so their books are in the black. Some bars can be a bit aggressive with ladies coming on to you asking you to buy lady drinks or bar fine them. This can be especially true for ladyboy bars. Just be polite and decline and they'll get the message.
Now one thing that might bother you is the loud music. Go go bars blast their music to ear numbing decibels which I am not complaining after all, it's a bar. In general most bars are not so big. If it bothers you bringing in some ear plugs might be a good idea.
The toilets in a go go bar are surprisingly clean. I'm not saying you can eat off the floor. But because there's someone always cleaning up the toilet is the reason why it's not as bad as it can be. And don't be shy if find yourself taking a piss at a urinal and a bar girl comes in. Bar girls are not shy at all and they will make use of the mirror in the men's room to touch up their make up and primp their hair. It's all business as usual.
Is It Going To Cost Me A Lot Of Money?
No doubt, you're not going to get laid if you don't have a lot of money on your trip. Good news is you can get a decent hotel in Bangkok near the red light districts for around 1000THB to 1500THB. Food is relatively inexpensive but that's only if you stick with Thai food.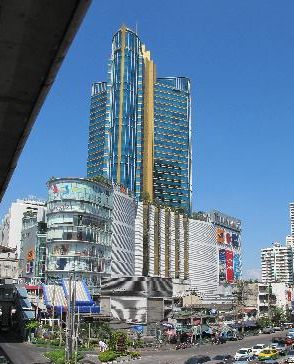 There are a lot of locals selling barbecue chicken and pork. And even fried chicken with sticky rice. If you're buying your food strictly from street vendors you can spend about $1.50USD per meal. If you're accustomed to eating 3 meals a day then your food budget could be up to $5USD a day. Let's just assume you're a big eater and likes to snack throughout the day on fruit which you can buy on the street. So let's just say you can get by on $10USD a day.
Now let's say you don't like eating on the street because you'll be sweating your balls off. You can always take the food back to your hotel room. But that can be boring. So a place I recommend for cheap eats with comfortable air conditioning is at the Terminal 21 Mall on Sukhumvit Soi 21. You can miss this mall because it's possibly the busiest location because the Sukhumvit MRT station and Asoke BTS train stations intersect on that spot.
Terminal 21 Mall has a huge and very popular food court not only to the local Thais but also to tourists. And sometimes I see Thai girls just sitting around doing nothing and trying to catch the eyes of foreign men. Are they freelancers? Possibly. But it's still a great place to stuff your face with food for around 40THB.
The biggest part of your spending budget will of course be spent on pussy. However, if you stick with hand jobs and blow jobs offered at a massage parlor you can really cut down on a lot of cost since those services cost around 500THB to 800THB respectively.
Full service from girls particularly from go go bars will cost you the most. Because you have to factor in paying a bar fine and buying drinks for yourself and lady. And on top of all that you have to pay for her time. Here's where you'll find info on cost of bar girls. You'll save a lot more money on Thai freelancers because there are no bar fines and drinks to pay up.
I can't make a magic bullet figure on how much money you'll need. I suggest however, whatever budget you have in mind right now it'll probably be a good idea to double it. It simply makes more sense to have more money just in case.
Are There Dress Codes In The Bars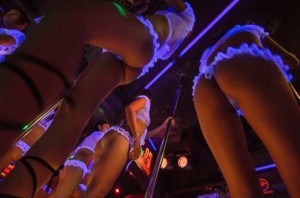 Every go go bar in Bangkok and even Pattaya and Phuket does not have a dress code. You'll see customers wearing tank tops and shorts with flip flops to guys wearing Armani suits and Italian leather shoes and everything else in between.
However, if you want the attention of hordes of bar girls, walk in with a tailored suit and you'll get there attention. May be too much attention if you don't mind it.
The mamasans will surely send their best girls (if available) to your way. While guys wearing clothes like they just came from the beach will still get served but may with not as much enthusiasm.
What you want to wear is really up to you. But if you ask me, I recommend wearing a polo shirt or a button shirt with pant and shoes. In Asia, it is a well known fact that the better you're dressed the better service you may get.
It's the same for massage parlors whether you're at a soapy or an oily. They don't really care what you're wearing either as long as you can pay for services.
Condoms - Whether You Like It Or Not Use One!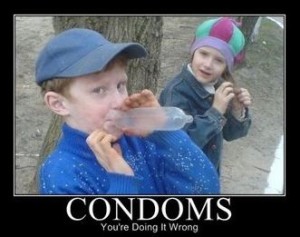 One of the question I get asked often is if it's clean to have sex with Thai hookers. What are the chances or catching HIV or any other serious illness where you'll feel like you've pissed needles?

Though all ladies working in go go bars, oil and soapy parlors are 'supposedly' checked for sexually transmitted diseases periodically doesn't mean there could be a few instances where a handful of sex workers could be hiding something. But I believe, and this is my opinion is that most established shops with a physical location are quite serious when it comes to the health of their employees.

After all, what business owner wants to be known has the place where they have hookers with sexually transmitted diseases. That reputation alone will sink a business.

But no matter what, please wear a condom. Not only for your safety but also for the working girls. I speak to a lot of girls and you'll be surprised about how many customers ask to go without a condom. On the other hand, if you do find a hooker that is okay with customers without wearing protection then maybe that's not the kind of girl or ladyboy you want to be shagging with.

Personally, I always go back to the places where I see the girls are careful when they put a condom on me. It just means that they're careful about their own health. And that my friends is a good sign.
Condom Sizes - Packing Your Own Or Buying Local
You are not going to have a hard time finding condoms in Bangkok. But I get a lot of questions asking me if Thai condoms will fit westerners. In my humble opinion and not that I know every cock size of every nationality I say Thai condoms, especially international brand names like Durex should not be a problem for foreigners.

I've only been using Durex and nothing else in Thailand although there are many other brands available in pharmacies and convenience stores such as 7 Elevens and Family Marts.

The biggest size that I know of so far for Durex condoms in Thailand is 56mm and you'll see the words "Comfort" labeled on a light blue box. Personally I don't use "Comfort" but that doesn't mean I have a small dick. At least I've been told.

I prefer to use Durex "Featherlite" brand and as the name sort of suggest it's a thinner condom for better feel. There are also Durex condoms with ribbed sensations for the ladies and that comes in an orange box I think that's just crap. But there are at least a dozen styles of condoms you can choose from Durex.

But if you really think you need bigger sized condoms then it's best  you source them out from your home country and fill up your suitcase before heading over to Thailand.

However, there is a chance that you don't even need to buy condoms at all in Thailand. That is if you are strictly going to visit oil and soapy massage parlors. Those establishments include them into the price you pay for services rendered.