3 Nights in Bangkok - It's Enough But You Will Always Wish for More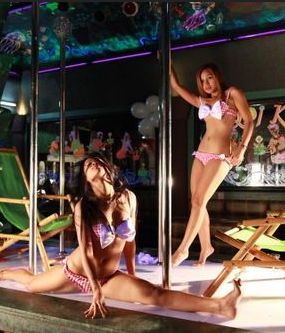 Congratulations, you've made to the 3rd night in Bangkok alive. And hopefully with all your fingers and toes. Though maybe you might have lost some weight because running around and having a humping marathon can burn some serious calories.

So that little white lie you told your friends you went on a hiking trip through the Himalayas to heal llamas instead of boinking bar girls will become more believable to your co-workers.

A third night should be a breeze for you by now because you know where to go for fun.

And you can simply repeat what you've been already doing for the first 2 nights. But there is one thing that you can do that is very relaxing during your last night before boarding that plane. And it's the soapy massage experience offered in Bangkok.
3 Nights in Bangkok Action Plan
As a treat for your last venture into the city's nightlife should be a visit to a soapy massage parlor. Of course you're going to have plenty of time so you can fill it with a visit to your favorite go go bar or even a quick drop and see at the Thermae Bar.

Soapy body to body massage shops world are famous in Bangkok. Customers choose a massage girl sitting behind a room that is sectioned off by glass. This aquarium look is the reason why the girls are referred to as a 'fishbowl' girl. Choose anyone of these girls and they will take you to a room, strip down, fill a tub with water and soap.

And once you've stripped down and in the tub full of water the massage girl will give your body a real thorough cleaning which includes your meat and veg. She might even give you a bare back blow job. But afterwards you do get a full body rub down with the massage girl's body, which is why you'll hear the term body massage often. Right after the wash down it's off to the bed followed by foreplay and full on sex.

There are 2 soapy massage parlors in the Sukhumvit District. The first one is Annie's Massage located on Sukhumvit road Soi 2, just opposite from the Majestic Grande Hotel and close to Nana Entertainment Plaza. The second one is Darling's Massage on Sukhumvit Soi 12 which is opposite from Terminal 21 Shopping Mall. Both establishments charge around 2500THB for 2 hours.

Now if you walk into both establishments but don't see a girl that you like and have an impelling urge to try out a soapy before you leave then consider taking a short ride on the MRT subway train to the Huay Kwang district.
From Sukhumvit MRT station take the train to Huay Kwang MRT station. The fare cost 22THB and last about 10 minutes. When you reach Huay Kwang station follow the signs to Exit #3. Once you're out of the station escalators walk ahead and the first huge soapy massage parlor you will is Emmanuelle Massage.

Emmanuelle's is an okay massage parlor but it used to be better in my opinion. They do have a 2-tier pricing which means that non-Asian foreigners pay extra, at least 400THB – 600THB depending on services provided. It's best to visit their website for pricing info.

Walk down a little further and you will see Nataree Massage (no website). There are 2 entrances just enter the one on the right which will lead you immediately to a room full of sideline girls sitting all over the place. In front is the fishbowl.

Nataree fishbowl girls will cost 2000TBH for 90 minutes. Sideliners cost more at 2300THB or 2600THB depending on hotness. They do have girls that cost 4000THB tp 5000THB who are supposedly newer to the scene. I wouldn't go for them and I think they're mostly for Asians with cash to throw away.

Across the road from Emmanuelle is Caesars Entertainment.  Their style and pricing structure is very much similar to their competitor across and is worth checking out.

Now this guide has not shown you every soapy massage parlor there are in Bangkok. There are about a dozen more. But the three above are the easiest to find in one location.

If you walk further down from where Nataree Massage is and past the Emerald Hotel for another 5 minutes you'll find the Lord Massage Parlor and a little further down Alaina Entertainment Massage. Alaina is a part of Nataree but I think Nataree has better looking girls. But Alaina has better rooms though.

Once you're done with your soapy massage and have plenty of time you can head straight back to Sukhumvit for some drinks at a go go bar. However, walking around Huay Kwang's main markets is kind of fun too.

A lot of Thai girls working in Bangkok's nightlife industry live in the area to be close to where they work. I'm not saying you should walk around Huay Kwang and start eying every girl as a prostitute. But you can find a lot of cute girls walking around, eating and drinking at one of the many restaurants in the area and shopping too. It's just a great spot to watch the locals and gives you other meanings and experiences to take back with you.
Don't Like Soapies?
You can also go to a Thai, oil and lotion massage shop in the Phrom Phong district to get laid too.

Or if you simply have more days to fool around and want something different check out my oil massage section for even more body on body action!

If you're feeling a bit more adventurous how about going to an after hours club too to meet Thai freelancers!
Something To Remember
Sometimes when you're short on time you'll see two girls that you like very much. Remember this, every girl working inside a soapy parlor has a badge with a unique number. Just jot down the number and you can always go back and choose her the next time.
Or, why not choose two girls? Yes, it's allowed. You can even choose three girls. As long as you can pay for however many girls you choose they don't care.