2 Nights in Bangkok - More Time to Get Laid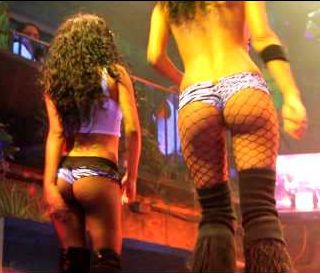 2 nights in Bangkok is definitely better than 1. By now you should see how easy it is to travel around the city and visit the go go bars and body on body massage parlors.

If everything is fuzzy and you need a refresher course check out the 1 night guide again.

And if you did make it to Nana Entertainment Plaza and Soi Cowboy then you'll know that both truly are a man's dream come true. Watching naked bar girls while sipping on a bottle of beer is one of my favorite past times in Bangkok.

So now that you have visited both popular go go bar centers there's one last red light district in Bangkok to tick off on your check list. It's called  Patpong and you can find it in the commercial business district of Silom.
2 Nights In Bangkok Action Plan
You're going to see a big difference between Patpong and the other two red light districts in Sukhumvit. There's a lot more different mix of tourists and the energy is definitely different. It's much more 'festive'. But it's still worth a visit and besides it's easy to get to from your hotel if you are staying in Sukhumvit. Take a look at the Patpong red light section to find out how to get there.

It's partly due to the fact that Patpong has a night market too selling a whole bunch of stuff that you won't probably need. Maybe except for the porn DVDs. Other than that you'll find the usual loads of counterfeit Italian brand name hand bags, watches that last a month, knives, clothes including all types of t-shirts with funny messages.

That said, Patpong is still a pure go go bar strip and prostitution is at the fore front even when there are grand parents in the background sorting through souvenirs.

There are only about a dozen go go bars in Patpong and there's no need to go through every single one of them. Though there's one thing that you have to be aware of especially if you don't want to end up in with a ladyboy. Almost all popular go go bars in Patpong Soi 1 have a mix of real bar girls mixed in with ladyboys that are mostly post-op. So when in doubt, ask the mamasan.
Got A Bad Hangover?
Keep in mind there is no quick cure for a hangover.
It's easy to drink yourself silly when everyone else is with dozens of girls dancing with their tits out to see. So it's easy to end up with a really bad hangover during the first night. But you don't want to get so messed that you can't get out for the second night.
So what's my plan? First refrain from drinking too much alcohol.
If that's too difficult then here are a few things you can do to lessen the impact of getting totally shit faced the next day:
1. Drink plenty of water before sleeping.
2. Eat food before drinking.
3. Get a body massage.
4. Keep some aspirin handy.
5. Get a blow job.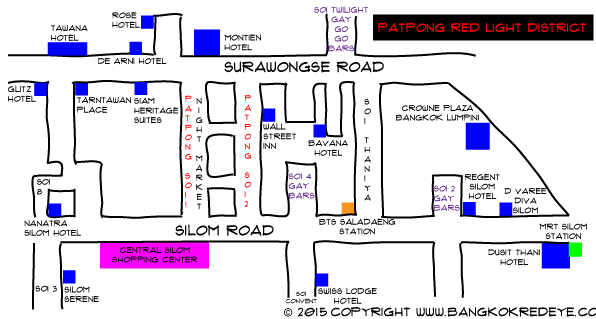 Recommended Go Go Bars in Patpong Red Light District:
King's Castle
King's Castle 3 – All ladyboy go go bar
Bada Bing
Pagoda
In my experience bar girls in Patpong typically quote more money for short time and particularly for long time. And they are usually firm on their rates especially when they know they are better looking or younger. Koreans and Japanese tourists will pay their asking rates so even if you don't agree with a pretty bar girls asking price she will find another customer.

Now I'm not discouraging anyone from visiting Patpong. I'm just suggesting you should carry a little bit of extra cash. Because if you flew from the other side of the planet and end up in Bangkok for a short time then you might as well pony up that extra wad of cash to sleep with a hot bar girl. At least that's just my two cents.

If you've followed my recommendation on staying in a hotel close to Nana or Soi Cowboy you're probably wondering where to take your bar girl in Patpong for short time. Well, you're just going to have to rent a room for the hour at a short time hotel. There's one up a flight of stairs in a building located between Patpong Soi 1 and 2. No need to worry about finding it because your bar girl will take you there. The cost is around 300THB for the hour and be sure to bring your own condoms.
Patpong Gogo Bar Map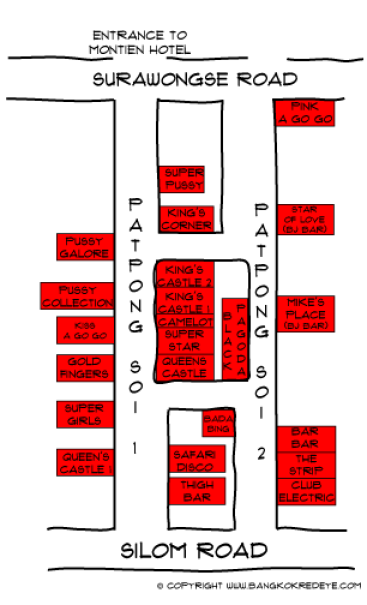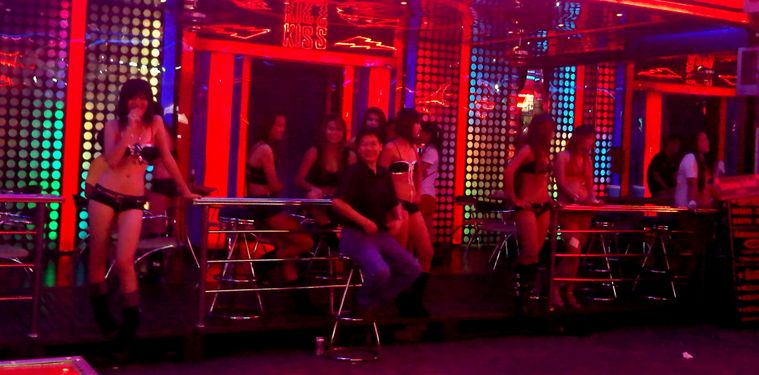 Soi Thaniya or what I like to call Little Tokyo in the Big Mango is another place to check out. But it's the kind of place where you can look but can't touch. It is strictly a Japanese customer only strip of bars, restaurants and brothels. Take a walk down Soi Thaniya and you'll swear you're in Tokyo's red light districts. If you still have plenty of time in the night it's worth a walk around since you're there already.

You might have noticed that there are not a whole lot of Thai working girls hanging out in the streets like you do back in Sukhumvit (more about that below). You might find some in pubs and a few beer bars but other than then that the freelance scene in Patpong is bare.

And that pretty much sums up Patpong. You can walk around some more and take in the scene a bit longer.

However since you haven't even scratched the surface of the city's massive Thai Freelance scene, you should head back to Sukhumvit district. Remember Sky Train service stops at a little before 12am. A taxi to Nana Plaza hotel in Sukhumvit district from Patpong should cost around 70THB with light traffic. The hotel's parking lot has around 2 dozen Thai prostitutes standing around so it's a good start point.

And Nana Plaza Hotel is right across the street from Nana Entertainment Plaza so there is a lot of action in the area.
Hooking up with Hookers in Sukhumvit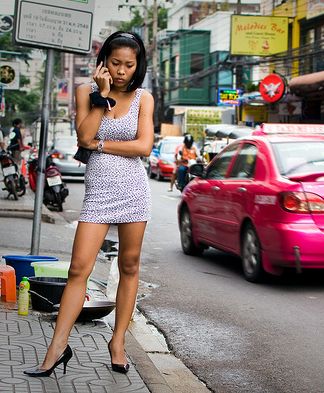 Sukhumvit is the place to go to find Thai freelance prostitutes. Aside from it's also where Nana and Soi Cowboy is located, it's the main reason why I always recommend finding a hotel along Sukhumvit road between the red light districts.

Today, Bangkok's freelancers are a major business rival to go go bars in terms of numbers of ladies. Because not only can you find Thai working girls. There are also Russians and Africans. And let's not forget ladyboys. Those cocks in frocks are a real force to reckon with these days.

But if you're the traditional sort like me who want to stick with Thai freelancers then here are a few places I recommend checking out when you're short on time. By the way if you can't tell the difference between a Thai prostitute in a bar, or need to know how much Thai freelancers charge check out our information page here.

On this page you'll find tips on setting up a threesome with street hookers too. Why not try it once in your life?
Thai Freelancer Pick Up Spots
Because you only have 2 nights your places to check out where Thai Freelancers hang out is limited. But no worries because there are a few places that are close to each other that most guys who visit Bangkok really like.

The first is Thermae Bar and you can find it in basement of the Ruamchitt Plaza Hotel (guest friendly by the way) between Sukhumvit Soi 13 and 15. Weekends is the busiest. During that time it is not uncommon to find at least 3 dozen girls inside. There are also about a dozen prostitutes standing outside on the sidewalk in front of the hotel and with a few right by the stairs leading downstairs to the Thermae.

Ladyboys are not allowed inside the Thermae but a few can be found outside the hotel. The ladies inside usually charge around 1500THB to 2000THB for short time. You will find cute girls in the Thermae and yes they will charge about 500THB more then the typical freelance rates from other working girls.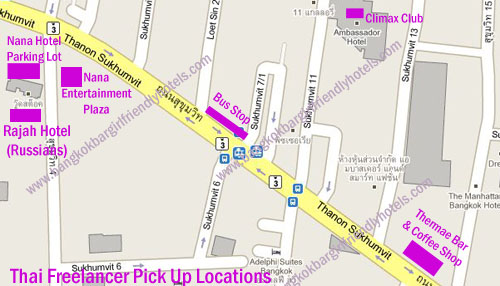 Another good pick up location that is a 10 minute walk from Thermae.  It's a club called Club Climax and it's also under another popular guest friendly hotel, the Ambassador Hotel on Sukhumvit Soi 11. There's a 200THB entrance free however which includes a drink. It's much busier during weekends and they put on a pretty good show with live music with gorgeous dancers.

Club Climax is a well known after hours club too and they usually close around 4am. Since they close so late many go go bar girls from Soi Cowboy and Nana Plaza who need to make some extra cash usually end up in Club Climax to make more money. So it's a great club to get one off and end a last night in Bangkok.