Patpong Gay Nightlife Guide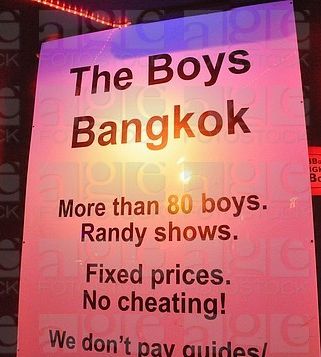 Bangkok's naughty red light districts has catapulted the city's status as the nightlife capital of Asia since the 70's. It's numerous go go bars, bars, clubs and massage parlors are obvious fronts for prostitution draws men from all corners of the globe, straight and gay.
But there's a side to Bangkok's red light districts that often goes unheard of. Yet its customers are mainly men. Gay men that is.
Bangkok has its fair share of gay go go bars, even ones where Thai men don glittering skimpy speedos, perform choreographed dance in a large glass water tank. And customers can pick out these 'boys' for a date or to put more plainly 'compensated sexual rendezvous'. Many times gay tourist will hire male go go dancers for short trips to many of Thailand's beautiful islands and beaches. And there are times gay tourist will hire out these dancers simply for short time sex.
Bangkok is the perfect exotic destination mostly for Western men who are not able to reveal their true colors back home. Violence against gays is virtually unheard of in Thailand. Though there are a few instances of physical assaults on gays. But guess what? They were committed by drunken foreigners who've packed their bigotry along with them on vacation.
Gay tourist coming to Bangkok's gay red light districts can easily set aside their fears and be at ease.
As modest and (semi) conservative as Thais are, their tolerance for homosexuals, transsexuals and transvestites (and there is a difference) far surpasses the attitudes and religious ethics of their Western counterparts. This is probably due to the fact that Thai males are brought up to be not as sexually repressed as Thai females. It is quite common for males as young as 15 to have their first sexual foray in a brothel through encouragement from older friends and even family.
Gay Thais are accepted in all facets of Thai culture, entertainment and yes even in the sex industry. Most foreigners are even surprised to know that Bangkok has a large population of gay men. Even though women outnumber men 2 to 1. It's a virtual gold mine for gay foreigners with an Asian man fetish. And they come to Bangkok to openly meet gay Thais in the bars and clubs of Patpong.
Bangkok's gay adultainment is mainly located in the commercial business district of Silom. The most notable attraction in Silom is Patpong's red light districts and it's lively and expensive night market.
Patpong red light district is easy to reach. Matter of fact getting around all of Bangkok's red light districts is simple.
How To Get There
To get to Patpong you can take the Sky Train (elevated train) to Sala Daeng station. By MRT (underground train) you get off on Silom station. When you're out of the station just follow the crowd of tourist to Patpong. It's not hard at all to find. And any taxi driver in Bangkok will understand the word 'Patpong'.
Within Patpong there are 3 hot spots for gay nightlife and they are all in easy walking distance to each other (Soi is the Thai word for small side street, lane or alley):
    Duangthawee Plaza on Soi Pratoochai
    Silom Soi 4
    Silom Soi 2
We all know bars and clubs charge more money for beer and hard liquor. But in Bangkok the prices in the establishments are cheaper by Western standards yet expensive by Thai standards. A bottle of locally brewed beer such as Singha will cost about 80 baht to 125 baht.
Though I'm not gay, I have made many friends in Bangkok who are. And I am often invited to their birthday parties, special events and even social gatherings. I find that there are many heterosexuals, both men and women who enjoy their excellent entertainment venues and even great bars and restaurants. Another word, all are welcome with open arms.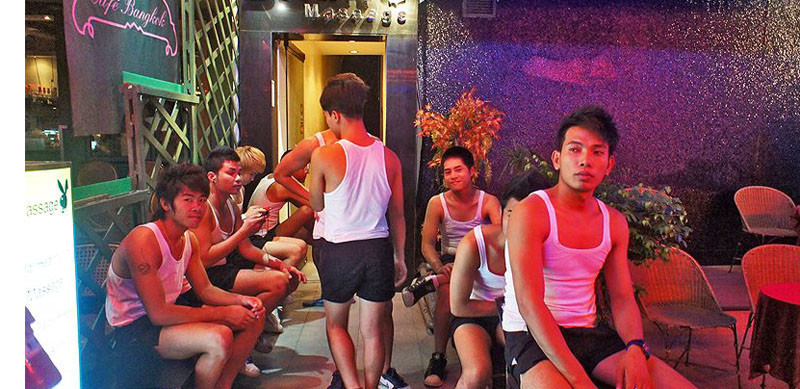 Where To Find Gay Go Go Bars In Patpong
For gay go go bars head over to Patpong's red light districts, specifically Soi Pratoochai on Surawongse road, opposite Thaniya Soi (street) 2. You'll come across a cluster of signs with one saying "Hot Male", which leaves you with no doubt that you've hit the gay quarters.
This section is also called Soi Twilight. I don't know the real reason why though if I could make a guess I would say it's because many of the gay establishments here are able to open way past the 1am closing time imposed by the Thai government and (loosely) enforced by the police.
Duangthawee Plaza is where you'll find what most sex tourist would call "Pay for Play" establishments. There are a handful of popular all male go go bars operating here where they can pay for sexual extracurricular activities. And it usually cost 2000 baht for an hour, not including a 500 baht fee for taking the dancer out of the bar.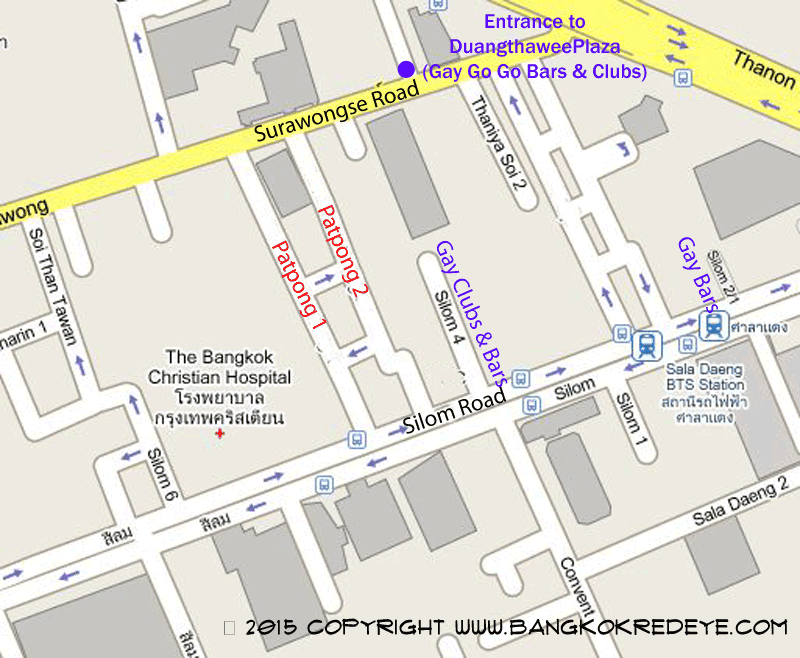 One of the most popular and unusual gay go go bar in Bangkok is called 'Classic 2nd Boys Club'. What's so unusual about this place? Well that depends on how many go go bars you've been to. This one in particular employs 'Mermen' who perform choreographed dance moves in a giant glass tank. It's certainly a place where Madonna will feel at home.
Matter of fact she'll probably feel at home in all of the clubs on Duangthawee Plaza such as X-Boys, Dream Boys and Hot Male. All of these go go bars have large dance stages where nightly shows and entertainments are performed starting after 11pm
You'll also find a few very good gay bars and dance clubs with popular international guest DJs from all over the world spinning the latest groove and hip hop dance beats. And of course you'll certainly hear the gay national anthem often called, "It's raining men".
Where To Find Gay Bars And Clubs?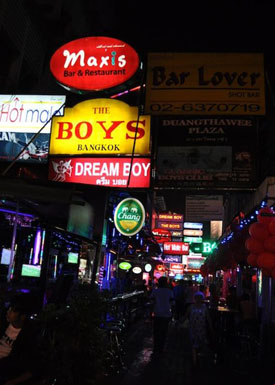 There are many gay bars and clubs in Bangkok spread throughout the city mostly catering to local Thais. But in Silom Soi 4 and Soi 2 you'll find a mix of local Thai yuppies (young business professionals) mingling with an international gay crowd.

The bars and clubs in Silom Soi 4 provide a much more laid back atmosphere than their raunchy counterparts in Duangthawee Plaza.

Many of the fine cafes, bars and restuarnts here have open terraces that are popular spots for people watching. And the chairs often fill up especially during a weekend and when the nights are cooler.

One of the most popular spots in Silom Soi 4 is Telephone Pub, Restaurant and Karaoke. As the name implies, it's a pub, restaurant and karaoke club. Where does the 'Telephone' fit in? As a customer here you'll find telephones on tables placed all over. If you find someone you're interested in sitting next to one then you dial the appropriate number for a chat.

Singing karaoke is a popular past time throughout Asia, especially in Thailand. Many of the bars, pubs and restaurants have professional karaoke equipment with Thai and Western music. Sphinx Restaurant and Pub has a private karaoke lounge on the second floor. For those who are totally unafraid to sing in public there is a small stage facing a bar where you can showcase your talent. Karaoke is a very inexpensive form of entertainment in Bangkok and it's really great fun especially when you and your friends have knocked back a few bottles of beer and whisky shots.

For a more cozy laid back atmosphere check out BAS Living Room. They have a very good bar with an excellent wine selection. The music volume is set lower here, perfect for intimate gatherings and low key conversations.

If that's too quiet for your taste than check out the newly opened For Fun and the live music bands that play here often.

Once in awhile several establishment owners on Soi 4 will collaborate and put on live entertainment like fashion shows, cabarets and beauty pageants either all male or ladyboys. The shows are very well done and always draws a huge crowd watching and enjoying the live entertainment al fresco.
Where To Find Gay Massage Parlors?
Thai massage is most well known for relaxation and it's therapeutic benefits. It's also a big earner for Thai tourism. This is especially true for massage parlors with masseuse who offer 'happy endings' to their guests.

There are many located throughout Bangkok that are tailor made for local Thais but most massage parlors where you will find foreign faces in is of course at Patpong.

Gay massage parlors offer many types of massage services. You can have a traditional massage, oily massage and even herbal massages. It's a real true value considering that most of the male masseuses are well trained in traditional Thai massage and is certified from Wat Pho, a famous massage school. Of course massage services are paid separately from any extra curricular activity, which ranges from 2000 baht and up to 5000 baht, depending on the establishment.

You can easily find gay massage parlors in Duangthawee Plaza (see map above):

    Bangkok Massage – Open from 1pm to 1am everyday.
    Bonny Massage – Open from 1pm to 2am everyday.

There is a very upscale gay massage parlor called Adonis Massage on Soi Convent which is a 10 minute walk to Patpong.

Senso Men's Club just located across Silom Soi 2 is another popular place with modern facilities and well trained masseuse offering a wide variety of services.

There are a few more established traditional Thai massage parlors between SIlom Soi 4 and Soi 2 with a handful of gay masseuse. When available you'll see them sitting outside of the establishment calling out to customers.