Nana Red Light District Guide
As Bangkok's biggest red light district in terms of pay for play options, the areas surrounding Nana Entertainment Plaza (NEP) is hard to compete against.

NEP is where the heart of the districts activity is centered around, buzzing with many popular go go bars such as Rainbows 4 and Angel Witch.

Thai hookers are up and down parts of Sukhumvit Soi 4. Russian prostitutes are right across the road on Soi 3. African street walkers are on Sukhumvit 7/1, muscling out what was once a Thai hooker stronghold.

There are a lot of small beer bars and popular pubs all over the area and especially along Sukhumvit Soi 4 to pick up ladies, particularly right inside Nana Plaza's courtyard beer garden.

Ladyboy freelancers are all over Nana district too. Though it's a safer bet to bar fine one from a ladyboy go go bar inside NEP for safety reasons. There are ladyboys working around Sukhumvit road and on Soi 4 with the intent of robbing and cheating.

So there are many places to pick up prostitutes but bar fining a bar girl from NEP is the path that most tourists seem to follow. Because bar girls inside go go bars are wearing bikinis so guys can have a better idea on how the ladies look in the nude. And some bars do have girls dancing topless

Rainbow 4 for example has 2 dance stages and the stage on the left is the one where ladies dance topless. So when you go there ask for a seat by the left stage for a much better viewing pleasure.

All bar girls have a numbered badge pinned either on their bikini or g-string. So when you find a lady you like just tell the waitress the number and they'll pull the lady off the stage to sit with you. When she does the rule is to buy her a lady drinks for her time.

Go Go Bar Girl Pricing:  To take a girl out of a bar you have to pay a 500 or 600 Baht bar fine first to the bar or club the girl works for in Nana Entertainment Plaza. The rate that you pay for play is totally separate and depends on Short Time or Long Time.

There are quite a few other factors that will affect the asking price from bar girls. For example the way you look, your age and your ethnicity are some examples of those factors. Below are general rates for pay for play.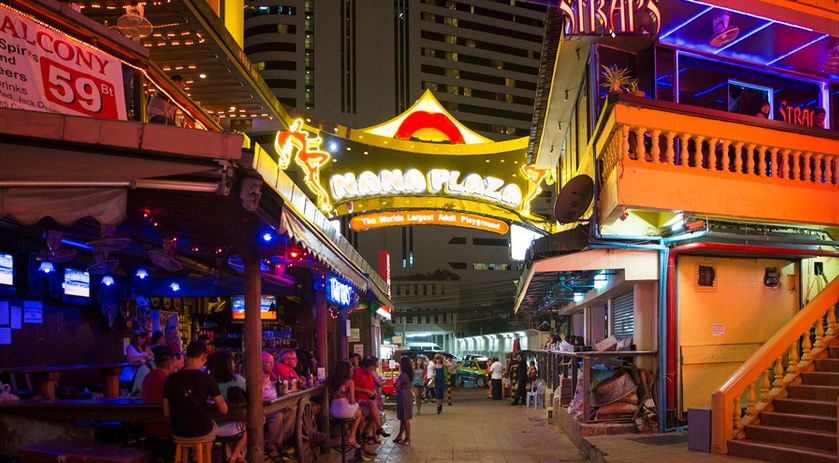 Nana Plaza At A Glance
Location
By the entrance of Sukhumvit Soi 4
Nearest Train Stations
Ploen Chit (BTS) and Nana (BTS)
Beer Prices
110THB to 150THB
Bar Fines
500THB – 600THB
Bar Girl Short Time Rates (negotiable)
1500THB – 2500THB
Bar Girl Long Time Rates (negotiable)
3500THB – 6000THB
Hours
Opens around 6Pm. Closes around 1AM to 2AM
Nana Entertainment Plaza Location
NEP is located near the entrance of Sukhumvit Soi 4, right across from the Nana Hotel. It's very easy to find particularly at night because it's crowded with hawker stands, tourists and ladyboy freelancers.

Closest train stations are Ploen Chit (BTS) and Nana (BTS). Both stations are about an equal distance walk to Soi 4.
If coming from Nana station remember to follow along Exit #2 from the station and it will lead up to Soi 4 on Sukhumvit road. If coming from Ploen Chit BTS station follow along Exit #4.
Are Nana's Go Go Bar Girls Hot?
NEP has a handful of very popular go go bars with a reputation for employing the best looking ladies. That said, average looking bar girls make up the bulk of prostitute numbers but there are still a fair amount of attractive ladies to pick and choose from.
Remember, all of the best looking ladies are either standing outside to attract customers or dancing on front stage nearest to the doors as an extra lure.
To give you an idea on what an average looking bar girl looks like and what a hot looking bar girl looks like take a look at the example pics.
Average girls charge a minimum of 1500THB for short time. Above average looking ladies charge about 2000THB to 2500THB (could be higher). Hot bar girls charge a minimum of 2500THB and up to 3500THB for short time (again could be higher).
Prices are always negotiable but if she knows what she is worth she will charge what she's worth. If you are short on time I would never suggest bargaining with very attractive bar girls because seriously, if you can't pay what they want they can easily find a customer who can and will.
Short Time (1 hour but negotiable) will cost you between 1500 Baht to 2500 Baht. In some instance if the girl knows she is attractive and quite popular she may stay firm on a 2500 Baht or more asking price. You'll also have to pay for a short time room which costs 300 Baht to rent for the hour. There are 2 short time rooms for rent. 1 hour is the norm but you can ask for 2 hours instead. It doesn't hurt.

Make sure you buy your own condoms. The one's available at the short time hotels cost more and are industrial strength which means it won't be comfortable. Two short time hotels are on the 3rd floor. Both charge the same rates. To save on having to rent a short time room you should stay in a hotel near Nana Plaza instead. It's much more practical. And cleaner too.

Long Time (Overnight) obviously cost more because you're taking them out of the bar the entire night. Otherwise they can earn more doing multiple short times with different customers. The asking rates range from 2500 Baht up to 5000 Baht for long time. Again there are factors that will affect the price quoted, such as how much money she's made already for the night as well as how she's feeling. After all bar girls want a break as well since most work 6 days straight every week.

Here's a tip, you can wait until the 2am closing time and ask the bar girl to stay with you for long time to save on the 500 Baht bar fine. Usually you take the bar girl back to your hotel for long time stay. Technically a bar girl cannot make side deals inside of her work place. So keep your secret deal  just between the two of you.

You should make sure the hotel you're staying in won't have an issue with you inviting a Thai hooker to your room. Because there are hotels that will charge a joiner fee if you invite non registered hotel guests.
5 Hotels Very Close To Nana Entertainment Plaza
1. DI Place Hotel Bangkok
2. Heaven@4 Hotel Bangkok
3. Majestic Suites Hotel
4. Dawin Hotel Bangkok
5. Phachara Suites Hotel
These are 5 recommended hotels closest to Nana Plaza. And all are confirmed visitor friendly so prostitutes are allowed. Though these hotels will not charge a joiner fee, they may ask for your companion's Thai ID card to check if they are not under-aged.
Nana Entertainment Plaza - Ground Level
Voodoo – The latest go go bar with ladyboys. Just goes to show how popular this type of venues are inside Nana.
Pretty Lady –  Has a good line up of friendly bar girls. Drink prices are reasonable too.
Red Lips – Some of the nicest girls working there and friendly staff.
Lollipop – A decent place to check out bar girls. A bit too aggressive on customers for drinks and bar fines though.
Obsessions – Ladyboy go go bar. A favorite for many and known for non-pushy ladyboys.
In the center of the plaza are small clusters of bars. You can just chill out their for a little while having a beer and taking in the scene for a moment.
Rainbow 2 – Another popular go go bar on this level. A good mix of bar girls work there and worth a stopover for a look.
Angel Witch 2 –  Similar to Angel Witch 1 on the 2nd floor, but it features a more dark style shows and houses some of the best coyote girls in bkk.
Play School – An average go go bar with some good looking bar girls.
Rainbow 1 – A popular group in visited mainly by Japanese. Worth dropping by for a beer.
Monster Ink – A tattoo parlor where girls are also available for your enjoyment.
Nana has changed a lot through the years with many bars renovated trying it's best to keep up with Soi Cowboy and Patpong.
Nana Entertainment Plaza - 2nd Level
Casanova – A mostly pre-op ladyboy go go bar. Be careful, they are aggressive.
DC-10 – Certainly a unique styled go go bar. Has cheap drinks and worth a visit.
Sexy Nights – A mostly quiet bar with a small line up talent.
Angel Witch – A popular bar with many girls inside with interesting nightly shows.
Spanky's – Also an entertaining bar. Check out the shows they put on at night too.
Exotica – Part pool house, part go go bar. Really quiet inside though.
Rainbow 3 – The quietest bar in the Rainbow group line up. But still worth a visit.
There are seats all around this 2nd level where anyone can sit, drink and smoke and just watch.
Candy Land – This bar has just received a complete remodel and has attracted some very good looking women.
Rainbow 4 – By far the most popular and biggest bar with many ladies.
Temptations – Another ladyboy go go bar. Walk past there and you just might get groped.
Hot Lips – This bar is home to some very attractive go-go dancers and has coyote dancers for your pleasure it also has been remodeled.
Mandarin and Mandarin 2 (Table Top Dance) – Cute girls working there and worth dropping by for a look see.
Mercury Go Go – Has a nice setup and a good friendly line of girls. This bar has just received a complete remodel and has attracted some very good looking women.
Nana Entertainment Plaza - 3rd Level
Wild Thing – This bar has been redone and by far is now the most exciting go-go in Nana Plaza the girls are wild just as the name states. 

Bill Board Go Go – A big bar with pretty girls and a show involving a jacuzzi.
Cascade – A medium size ladyboy go go bar. Has mostly post-ops.
Location For Sale – No this is not the name of a go go bar. Though it could be. This location is for sale. Contact me via email jimhunt69@gmail.com for more info.
*Note* there are several short time rooms available on the 3rd floor of Nana Plaza.
Feeling Hungry?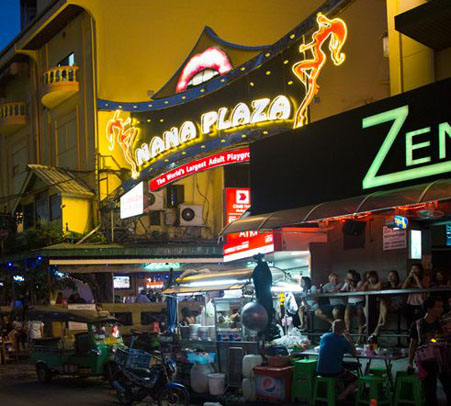 There are many restaurants to choose from if you're feeling famished after a romp with a bar girl.

There's a McDonalds and Burger King right on the intersection of Sukhumvit Road and Soi 3.

For pub grub you can find a decent meal from several just 50 meters down Nana Plaza

Plenty of Thai hawker stands are also in the area for cheap eats.

But if you're in Bangkok for a layover I highly recommend sticking with an indoor restaurant.

You don't want any nasty stomach problems from eating bad street food.
Finding Hookers In Nana Is easy
Technically Nana Entertainment Plaza (NEP) is located right by Sukhumvit road 4 though it is also called Nana Soi 4 or simply Soi Nana. The easiest way to get to NEP is by taking the BTS Sky Train. Get off at Nana BTS station. Look for stairway exit #2 because it's the closest to NEP which is about 400 meters away.

Taking a taxi to NEP could be a real nightmare during rush hour because Sukhumvit road will be jam packed with all manners of vehicles, especially when the taxi is heading south bound on Nanatai Road. In any case most taxi drivers will knows this and most likely decline your fare. Though they may offer you an inflated flat rate. Whether you choose to pay extra is up to you.

NEP is located right across Nana Hotel, where a few dozen Thai freelancers hangout on the premise of the hotel's parking lot. No big surprise that the Nana hotel allow their guests to bring ladies to a room with no joiner fee. Starting around 7pm a handful of girls start gathering inside the parking lot and linger on the street entrance of the hotel.

There are three floors at NEP with an open courtyard in the middle filled with beer bars. With all the bright neon lights crammed into NEP it's easy to mistake the place for a carnival.

There are lots of popular go go bars on the street level and I personally like Rainbow 1 and 2, Lollipop and Playschool. There are many beer bars in the center and usually 1 on the second floor. These are good places to relax, buy a drink and chat with ladies and to experience the sights and sounds all around you. There are also a few more bars on the ground floor of  NEP where you can shoot pool against some really talented bar girls, but I didn't have room to map it out. Besides, part of the fun and adventure is going out and exploring on your own.

There are quite a few very popular go go bars on the second level, my particular favorites are Rainbow 4 and Angel Witch. I often have the best times with my friends who visit those two bars. It's very laid back with some good shows and lots of ladies to keep yourself busy.

Overall, Nana red light district has a large and popular lady boy scene. You can find a handful of lady boy freelancers hanging around outside the entrance of Nana Entertainment Plaza. But if you prefer go go bars with lady boys then head inside Nana Entertainment Plaza and you'll find 5 popular lady boy go go bars.

Obsessions and Voodoo Bar is on the first floor in the back. There are two lady boy bars located on the 2nd level called Temptations and Casanovas. On the third floor you'll find Cascades which is easily one of the most popular post-op bar.