Find Out How Much It Cost And Where To Go
Finding a place for a blow job is not difficult at all in Bangkok. You can head to a go go bar but that would be the most expensive option since you'd have to pay a bar fine as well as a lady drink or two.

Or you can try beer bars with plenty of freelancers. And hookers along Sukhumvit Soi 4 would be happy to wet your meat too as long as you can pay for it.

Even blow jobs are offered on the menu in any of the city's naughty boy oil massage parlors are just one of the many options.

But if all you need is pretty girl's face between your legs then a blow job bar is the way to go. And most bars BJ bars open around 11am though some open even earlier so if you're wondering where to find some day time action then head on over to a BJ bar. And all of these bars close around 1am which is the usual time for most bars anyways.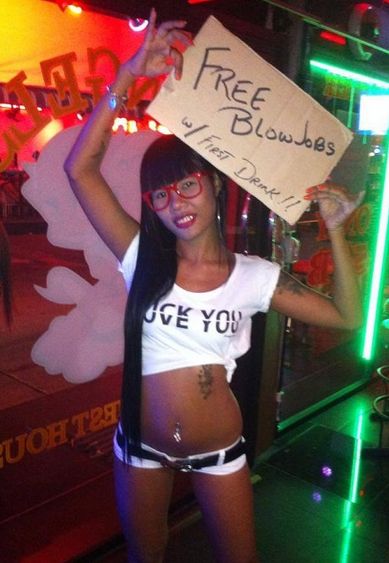 Compared to the sheer number of go go bars in the red light districts of Bangkok there are only a handful of establishments to get a beer while you're having your meat whistle cleaned. Though such exotic bars are few and far in between they are known for women with their specialty of satisfying a man with lips and tongue.

And I know a lot of guys want pictures of girls who provide BJ services but the rules are the same as they are in go go bars and massage parlors. Which is no pictures allowed inside the bars. I know we all want to know if the girls that provide such services are attractive or not.

While some guys don't really care about the girls looks and some really do. You can find BJ bars with cute girls working inside but there are usually quite a lot more unattractive ones too. So you're really going to have to be at the right time and at the right place to find a girl to your liking.

Though I know most guys only care about technique because there are such a thing as a bad blow job. Good news is that girls working in those bars are usually well trained in satisfying a man in that area.

And you can get a whole lot of other services too besides a BJ. All establishments have a section or room where you can get full service at reasonable prices too. Some have VIP rooms that offers full privacy in a clean environment and classy setting.

For the uninitiated, BJ bars can be quite intimidating and may not be for the shy or timid at heart. It's not uncommon to see guys getting their whistles cleaned in the open. All I can say is don't stare and try a keep a straight face. Because the first time I went to one I was chuckling like there was no tomorrow. As a result I was being stared down by a few guys who looked like they wanted to kick my ass. Why can't people just relax?
Bangkok BJ Bars
After Skool Bar
Price starts at 800THB.
Address: Soi Cowboy


Dr. BJ Salon Bangkok
Price starts at 800THB.
Address: Sukhumvit Soi 7/1


Kangaroo Club
Price starts at 700THB.
Address: Patpong Soi 1


Lolita's Bar
Price starts at 800THB.
Address: Sukhumvit Soi 8 on the right side.


Lollipop Bar
Price starts at 800THB.
Address: Near entrance on Sukhumvit Soi 10 on left side.


Mike's Place Bangkok
Price starts at 800THB.
Address: Middle of Patpong Soi 2, entrance by Foodland Supermarket


Star of Light
Price starts at 700THB.
Address: Patpong Soi 2


Most of these bars open around 11am. But it's best to pay a visit a little later.


And more services are provided with rooms on premise to rent short time.


Tipping is of course optional but if you find the service and girl exceptional then feel free to be generous. I usually tip at least 300THB.
A Good Place To Go For Day Time Action
If You've Got Some Free Time In The Day, Why Not A BJ Bar?
You can walk into to any BJ bar and have a beer with no need to choose a lady even though you might be pressured to.  You're only required to buy a drink which is the least you can do if you're going to take up space. And if you can't find someone you like you can always come back.

Because many establishments have different amounts of girls coming in at certain times and there really is no perfect time to go in. However, it's best not to go just when the doors have just opened. Because most of the girls are probably still sleeping in.

However, BJ bars are not a bad place to just have a beer and hang out. Most establishments charge reasonable rates for beers and hard liquor.

A bottle of Thai Singha beer can cost about 100THB and some places do have happy hours or other early specials for local draft beers for cheap.

So overall I recommend paying a visit to a BJ bar just to check off the list of things to do in Bangkok's red light districts.