Where To Find Thai Hookers When The Bars Are Closed
Go go bars and most establishments where guys can pick up Thai prostitutes must close by 2am by law. So what happens if you're shit out of luck in finding a Thai girl to keep you company until the sun comes up? That has happened to me a lot of times too.
You're best option is to head to an after hours club or bar. There are quite a handful spread throughout the city where you can find mostly Thai freelancers. These late hour clubs are perfect for guys who don't want to spend money on bar fines that go go bars charge.
Though keep in mind that the clubs listed below do charge entrance fees. However, some include coupons for drinks. Or if you buy a bottle of liquor then the entrance fee is waived.
Hate Bar Fines? Head to After Hours
We all know by now that every time you take a bar girl out of a go go bar you have to pay a bar fine. Depending on the popularity of said girl you're looking to spend from 500THB to 800THB.
While if you head to any of the clubs listed below, all you pay is an entrance fee. But you get your hand stamped. So you can come and go during the night. This means you can take a freelancer for short time back to your hotel.
And when you're finished you can head back to the club. And if you have enough energy and stamina (also money in your wallet) you can repeat the process with another lady in the club. I recommend staying in a hotel nearby just to make things easier for you.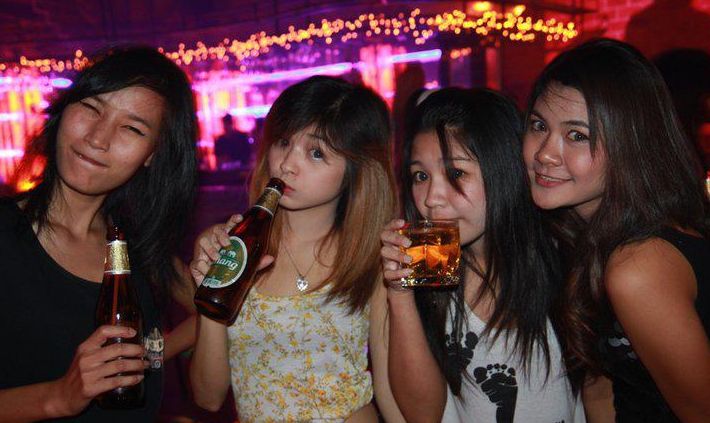 These Clubs are Great if You're Looking for Action After a Late Arrival to BKK
After hour clubs are also great for guys coming into Bangkok late in to the night or have a short layover.
I know a lot of flights arrive to BKK international around 12 am. By the time guys go through passport control, pick up their bags and check into a hotel, most go go bars have already closed by the 2am law.
So by hitting any of discos listed to the right you'll have a chance to score the company of fine looking Thai hookers from go go bars and even soapies.
Sometimes these girls just want to go out drinking and have fun with their own friends. And hooking on the side to make extra money is just a plus.
I also like going to these clubs because the talent pool is quite varied. Many girls employed in go go bars and soapies may head to an after hours club hoping to find a customer and make more money. I've seen a lot of familiar faces from go go bars and even soapy ladies from Amsterdam go to such clubs after work.
Some are out to have fun with their friends, usually other working girls. What that means is you might even get a freebie if you've got the right looks and know your game. Hey, even Thai girls get horny too.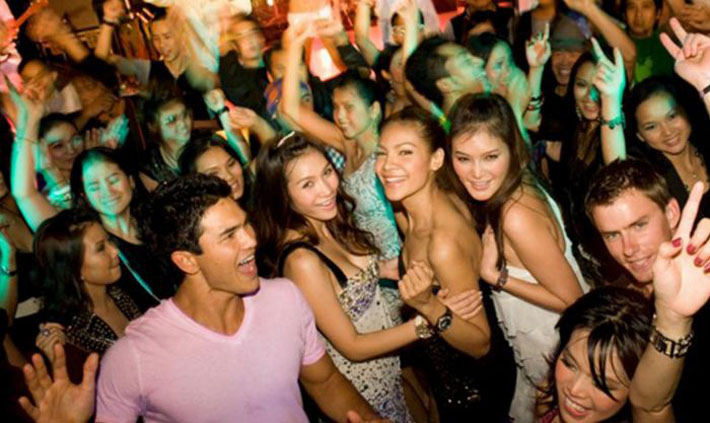 Clubs that open past 2am are also prime spots for finding Thai girls that are part time professionals, meaning they are hookers by night and possibly university girls by day or even bank tellers, department store sales clerks, hotel receptionist etc. who simply need to make a quick buck.
You'll find all kinds of Thai ladies in after hours clubs, not just full time prostitutes.
These clubs for some reason are another are able to open past the 2am closing time as required by law and close from 5am to 6am.
Which means most of the girls inside are expecting to be taken back to your hotel room for short time. Though provided she really likes you and that the offered cash is adequate she may go with you for long time.
But in general, most Thai prostitutes in clubs that open until the wee hours typically prefer short time just to make that fast money and go home.
Others, maybe gambling on the fact that you might be too drunk or too tired to get the little brother up when you take her back to your hotel.
List Of After Hours Clubs In Bangkok
(Clubs that close at 5am to 6am)
BASH
Entrance fee: Sun-Tues 300THB includes 2 Standard Drinks, Wed-Thurs 400THB includes 2 Standard Drinks, Fri-Sat 500THB includes 2 Standard Drinks
Address: Sukhumvit soi 11
How to get there: BASH is between Nana and Soi Cowboy. So in a great neighborhood on soi 11.
BASH has a no sandals, shorts and tank top dress code.
Nearest no joiner fee hotels:
Salil Hotel Soi 11
Grand President Bangkok
President Palace Hotel
Bossy Pub
(website)
Entrance fee: 300THB
How to get there: Near Siam Square/Pratunam area. Taxi drivers will know how to get there since they get a commission from the club.
Climax Club
(website)
Entrance fee: 300THB + plus 1 free beer
Address: Sukhumvit soi 11
How to get there: Basement of Ambassador Hotel (no joiner fee) on Sukhumvit soi 11.
Insanity Club
(website)
Entrance fee: 300THB
Address: Sukhumvit soi 12 This club is easy to find on soi 12, not far from Soi Cowboy.
Closest no joiner fee hotels are Ramada Hotel & Suites, Paradiso Boutique Suites and Cozy At Ten Hotel.
MIXX Discotheque
(website)
Entrance fee: 300THB
Address: Basement of arcade in Intercontinental Hotel (no joiner fee). Near Chitlom BTS station.
MIXX has a dress code, no sandals, shorts and tank tops.
Nana Liquid
Entrance fee: Free
Address: Sukhumvit soi 4, next to Nana Hotel (no joiner fee). But the hotel is in bad shape. Here are some better hooker friendly hotel choices in walking distance to Nana Liquid:
DI Place Hotel
Heaven @ 4 Hotel
Majestic Suites
Scratch Dog
Entrance fee: 400THB includes 2 free drinks.
Address: Sukhumvit soi 20 at the basement of Windsor Hotel Bangkok (no joiner fee). Not many freelancers inside but still worth a visit.
Spicy Club
Entrance fee: 300THB includes coupon for 1 free beer.
Address: Near Siam Square/Pratunam. Most taxi drivers will know of Spicy club since they get a commission from the club.